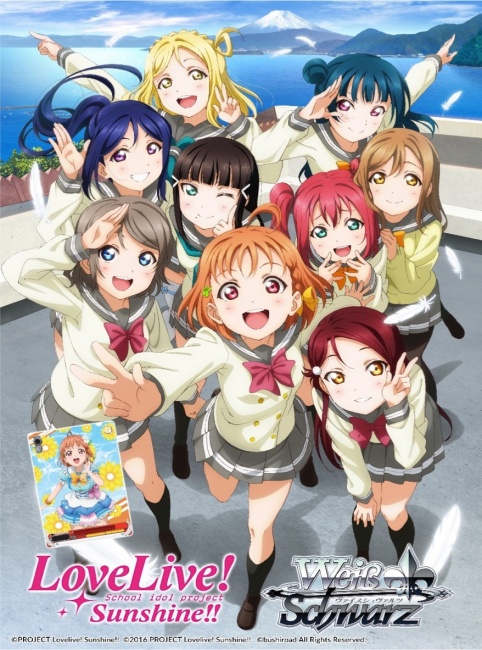 Music-making school girls are once again the theme for a new Weiss Schwarz expansion in Bushiroad's Love Live! Sunshine!! Trial Deck and Booster Expansion, releasing on February 17, 2017.

Like the earlier Love Live! expansions (see "'Weiss Schwarz: Love Live!' Expands"), the new Love Live! Sunshine!! is based on a multi-media property which includes music, manga, and animation, in which a group of school girls must save their school from closing by becoming music idols. Love Live! Sunshine!! tells a different story with new characters, which is reflected in the new expansion: for purposes of tournaments, Love Live! Sunshine!! is considered a different title than the older Love Live! releases, and they cannot be combined in Neo-standard format events.

The Trial Deck will be a 50-card pre-constructed deck, with cards available only in that trial deck. Eight different RRR Foil cards and one type of SP Gold Foil card hot stamped with the signature of voice actor Chika Takami will be randomly inserted in some Love Live! Sunshine!! trial decks. A rule sheet, playing manual, and playmat are also include in each deck.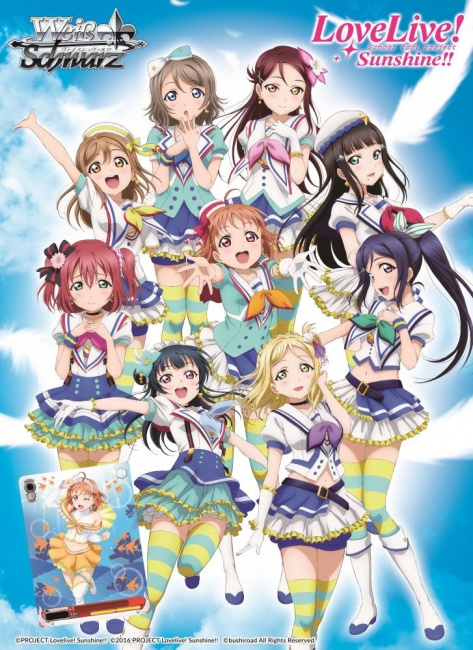 There will be 100 different cards available in
Booster Packs
, including 27 parallel cards, packed eight to a booster. Random packs will also include one of nine different Gold Foil/Hot Stamped SP cards signed by Japanese voice actors Chika Takami, Riko Sakurauchi, Kanan Matsuura, Dia Kurosawa, You Watanabe, Yoshiko Tsushima, Hanamaru Kunikida, Mari Ohara, and Ruby Kurosawa. In addition, one of nine exclusive PR cards will be randomly inserted in each box, and four limited-edition playmats will be included with each full carton.
The English language version of the new expansion does not include the gold or silver campaign coupons from the Japanese Edition. They may only be used in tournaments held outside of Japan.
Love Live! Sunshine!! will release about a month after the To Love Ru Darkness 2nd expansion, which hits the streets on January 13 (see "'Weiss Schwarz' Adds 'To Love Ru Darkness 2nd'").