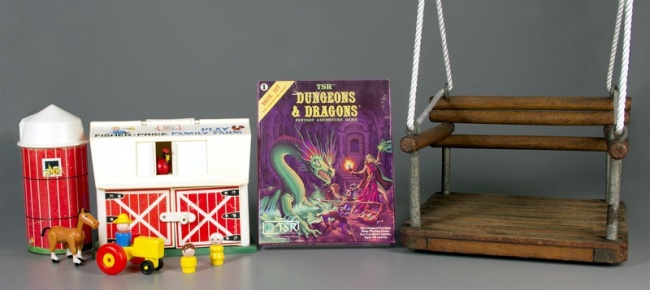 The Strong's National Toy Hall of Fame in Rochester, New York announced its 2016 inductees, which included Wizards of the Coast's Dungeons & Dragons roleplaying game.

D&D was joined by Fisher-Price Little People and the swing in being inducted into the Hall of Fame, beating out fellow nominees: bubble wrap, Care Bears, Clue, coloring books, Nerf, pinball, Rock 'Em Sock 'Em Robots, Transformers, and Uno (see "'D&D' Nominated for National Toy Hall of Fame").

"More than any other game, Dungeons & Dragons paved the way for older children and adults to experience imaginative play," said Strong Museum of Play Curator Nic Ricketts. "It was groundbreaking. And it opened the door for other kinds of table games that borrow many of its unique mechanics. But most importantly, Dungeons & Dragons' mechanics lent themselves to computer applications, and it had a direct impact on hugely successful electronic games like World of Warcraft."

Director of D&D at Wizards of the Coast, Nathan Stewart, was in Rochester to accept the award. Wizards of the Coast parent company, Hasbro was pleased as well. John Frascotti, president of Hasbro Brands said, "Dungeons & Dragons embodies Hasbro's goal of creating the world's best play and entertainment experiences and we are extremely proud to see D&D be inducted into the National Toy Hall of Fame."

The nomination process for Strong's Hall of Fame is open to the public, but a toy must be approved by a panel of "historians, educators, and other individuals who exemplify learning, creativity, and discovery through their lives and careers."