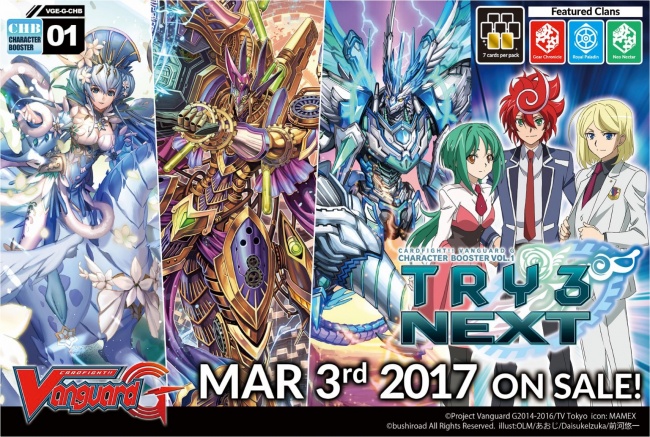 Bushiroad has announced the March 3 release for its new
Try 3 Next
Character Booster
set for its
Cardfight!! Vanguard G
CCG.
Designed to work with the new Divine Knight of Heavenly Decree and Flower Princess of Abundant Blooming Trial Decks releasing February 17 (see "Bushiroad Announces Two New 'Cardfight!!' Trial Decks), Try 3 Next will be the first Character Booster set for Cardfight!! Vanguard G. The set will include new trump cards for Chrono Shindou and his rivals, new cards that enhance the Royal Paladin and Neo Nectar, and nine premium RRR reissue cards with new artwork.
The entire set will include 75 cards, with 62 new cards and 13 reissued cards, of the following rarities: 3 GR, 6 RRR, 12 RR, 21 R, 33 C, 12 parallel SP, and 3 parallel SGR. Each 7-card pack will include two R or higher rarity cards.
As an added incentive, each 12-pack display box will have three out of nine possible reissue PR cards. The available cards will include three each for Gear Chronicle, Royal Paladin, and Neo Nectar decks.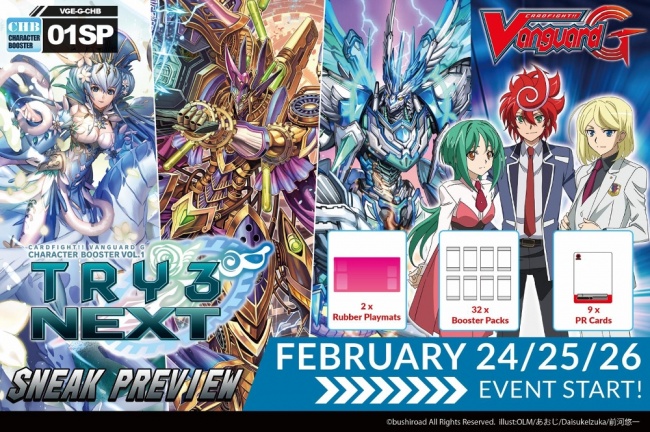 Retailers wanting to hold a sneak preview event during the weekend of February 24 - 26 can also order the
Try 3 Next Sneak Preview Kit
. This kit has 32 booster packs, 9 promo cards, and 2 rubber playmats, enough materials for up to eight players.
(See preview card images in the gallery below.)