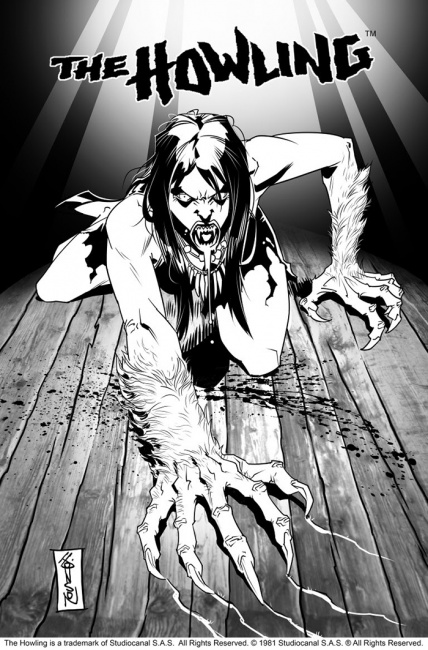 Joe Dante's classic horror movie
The Howling
is set for a four-issue comic miniseries and board game courtesy of Space Goat Productions, who is partnering with Studiocanal and Creative Licensing on the projects.
The Howling: Revenge of the Werewolf Queen will be written by Micky Neilson, the former Publishing Lead for Blizzard Entertainment. Jason Johnson (Wetworks, Knight Rider, Bravest Warriors) will draw the miniseries. The first issue is scheduled for release in Summer 2017.
Details about the board game, including release date, are forthcoming.
The Howling debuted on April 10, 1981, to modest box office success and has since become a cult classic and spawned seven sequels. The original film focuses on a television reporter who is sent to a secluded resort to recover from an incident involving a murderous stalker. She finds herself in the midst of a werewolf colony, where violent and gory shenanigans ensue.
Space Goat has two other board games based on other popular cult franchises in the works for 2017, including Evil Dead 2 (see "'Evil Dead 2' Comes To Tabletop") and The Terminator (see "'The Terminator: The Official Board Game'"). The Kickstarter for Evil Dead 2 funded in less than a day, and Space Goat will launch a Kickstarter campaign for The Terminator in February.