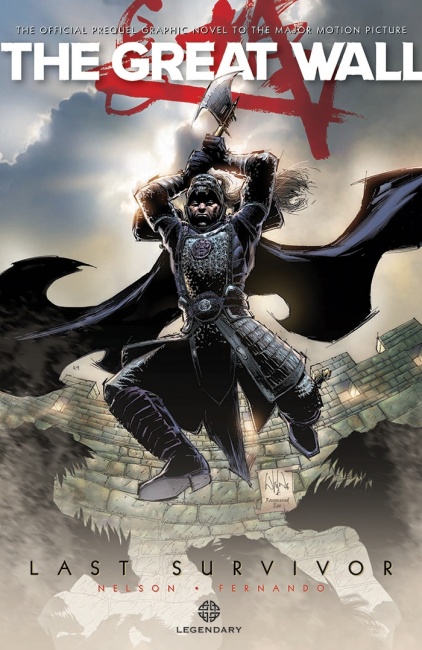 Legendary Comics is releasing a graphic novel prequel to
The Great Wall
, the Zhang Yimou-directed film starring Matt Damon, Willem Dafoe, Tian Jing, Andy Lau, and Pedro Pascal.
The Great Wall: Last Survivor is an original graphic novel written by Arvid Nelson (Rex Mundi) and drawn by Gian Fernando. Wilce Portacio provides the cover. The 128-page hardcover has an MSRP of $24.99 and will be in stores on January 24.
The graphic novel is set 60 years before the events depicted in the film. After a personal tragedy, Bao joins The Nameless Order, which defends humanity from an enemy so dangerous that the Great Wall was built to keep the world safe.
A prolific and immensely popular filmmaker in his home country, Zhang Yimou is best known to Western audiences for his wuxia films Hero and House of Flying Daggers.
Upon release of the first trailer for the film, The Great Wall drew some accusations of whitewashing over the starring role for Damon. Yimou refuted the accusations in a statement to Entertainment Weekly, explaining that Damon did not take the role from a Chinese actor and that he is one of five heroes in the movie. The other four are played by Chinese actors.
The film is one of the most expensive productions to be filmed entirely in China. It will be in theaters on February 17.