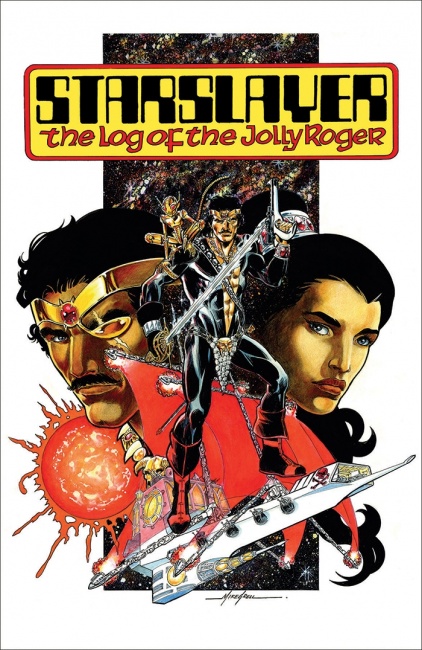 The first eight issues of Mike Grell's classic
Starslayer: The Log of the Jolly Roger
are set for a new trade paperback edition from Dark Horse Comics featuring a wealth of extras, including commentary from Grell.
Grell wrote and illustrated the first eight issues of the series, which debuted in 1982. The full-color, 224-page trade paperback collection boasts an all-new cover from Grell and has an MSRP of $24.99. It will be in stores on May 31.
Starslayer
centers on Torin Mac Quillon, a Celtic warrior from the time of the Roman Empire, who is pulled into the future to fight for Earth as a member of the crew on the spaceship
Jolly Roger
. Originally slated to be published by DC Comics, the first six issues were released by Pacific Comics after its abrupt cancellation by DC. The series was relaunched by First Comics with issue #7, and Grell wrote the series through issue #8.
Starslayer
continued under John Ostrander until series ended with issue #34.
Grell rereleased the first eight issues individually in an expanded edition,
Starslayer: The Director's Cut
, via Valiant's Windjammer imprint in 1995. This new trade marks the first time the
Director's Cut
has been collected.
Starslayer
launched several notable characters in back-up features, including Dave Stevens' Rocketeer (see "
Disney Planning 'Rocketeer' Reboot
") and John Ostrander and Tim Truman's Grimjack (see "
IDW Gets 'Grimjack'
").