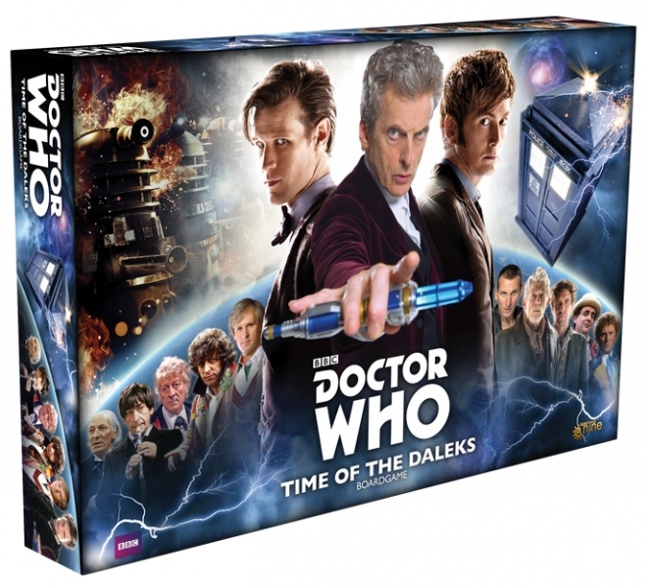 Gale Force Nine has shared information and images of its upcoming
Doctor Who
hobby board game,
Doctor Who: Time of the Daleks.
GF9 announced the license to produce Doctor Who board games in October 2015, and shared initial details on the first planned release (see "GF9 Reveals First 'Doctor Who' Game"). Doctor Who: Time of the Daleks will release in late February or early March 2017.
Players take the role of the different Doctors, traveling throughout time and space, attempting to repair the web of time. Players will find new companions, have adventures, and overcome challenge. Players must cooperate to stop the Daleks. The goal of the game is to get to Gallifrey before the Daleks do, stopping Davros from invading the Matrix in the first place. If the Daleks beat the Doctor to Gallifrey, the Doctors lose. If a Doctor gets there first, the Doctors win.
The box contains 20 plastic pieces, 6 TARDIS consoles, a scoreboard, 23 location tiles, 30 Dilemma tiles, 12 Time anomaly cards, 18 dice, 45 tokens, 36 Character cards, 40 Timey-Wimey cards, 6 reference cards, and a rulebook. The game is for 2 -6 players, ages 14 and up, and plays in 2 hours. MSRP was not announced.
Click Gallery below for five game images!