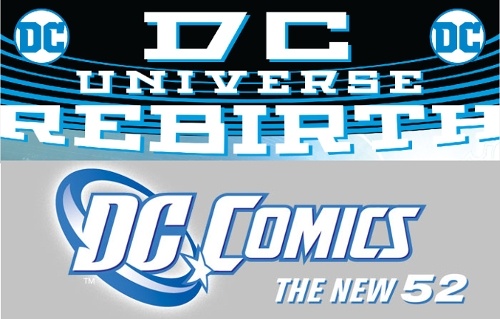 DC's
Rebirth
relaunch is now over a half year in since it began in earnest in June (see "
DC Unveils 'Rebirth'
"), and we took a look to see how it's succeeding relative to the last time DC relaunched its line with the
New 52
, beginning in September 2011, and found some interesting comparisons.
The first way we looked at it was to compare sales on like issues of core titles. To do that we compared North American direct market sales estimates on the top dozen titles that DC was publishing both in
Rebirth
in November and the
New 52
, in whatever 2012 month the comparable issues fell.
DC's Top Core Titles – 'Rebirth' vs. 'New 52'

'Rebirth'

'New 52'

BATMAN #11

116,690

127,210

JUSTICE LEAGUE #9

77,905

131,332

DETECTIVE COMICS #945 (12th Issue)

69,942

75,998

FLASH #11

68,304

53,674

SUPERMAN #11

63,686

56,066

SUICIDE SQUAD #7

59,452

29,617

WONDER WOMAN #11

58,692

45,669

NIGHTWING #9

52,984

61,395

ACTION COMICS #968 (12th Issue)

48,931

71,203

GREEN ARROW #11

41,576

26,646

732,053

754,255
There was no obvious pattern of sales differences on the Rebirth issues vs. the New 52 issues. Overall, the Rebirth titles were selling about 3% less than the same issue in the New 52 launch, but that's not a major difference. The differences in sales on the top two titles, Batman and Justice League, was more than the total difference between the New 52 titles and the Rebirth titles, but that is probably due to the fact that the creative talent had moved to other titles in the Rebirth line, and All Star Batman, the Rebirth home of New 52 Batman writer Scott Snyder, had no comparable title in the New 52 so was not included in this analysis.

It's worth noting that there are a lot of differences beyond the creative teams between the New 52 and the Rebirth issues being compared. First, there was a seasonal difference. We were comparing November Rebirth issues with New 52 issues from the summer, when sales are typically highest for comics, so the seasonal difference probably favors the New 52 issues.
Second, the time periods after launch were different. Because the Rebirth titles are being released at a frequency of twice a month, we were comparing issues from Rebirth that were six months after launch with New 52 issues that were nearly a year after launch. If anything that probably favors the Rebirth issues, because title decay tends to be greater over time.

And last, the title mix is substantially different. Because the Rebirth line included 17 titles with twice-monthly frequency, the title mix was better on the Rebirth line, offering more issues of titles with historically stronger sales.

It's that third factor that appears to be having the biggest impact, and a comparison of overall dollar and piece sales bears that out. We compared the DC dollars in the Top 300 Comics in November of 2016 (see "Top 300 Comics – November 2016") with July of 2012, the month when we found the largest number of comparable New 52 issues (see "Top 300 Comics – July 2012"). The title counts were almost identical (82 this year vs. 81 in 2012). Price points were close to even, with primarily $2.99 books in both cases and a handful of up-price titles.

It's by this comparison that we found that the Rebirth relaunch is doing substantially better than New 52. DC dollars were up 24% this year vs. the comparable month in the New 52 run, on piece sales that were up 21%. So DC's strategy of fewer titles and shipping the strongest titles more frequently appears to be working, at least so far. That second issue of Batman or Wonder Woman each month is selling substantially better than the second- or third-tier title it replaced.

And, of course, we shouldn't ignore what DC would say is the most important factor: the new editorial direction taken with the Rebirth titles. A more classic approach appears to be bearing fruit, and coupled with the new frequency, the DC line is entering 2017 on a stronger footing than it has had for some time.