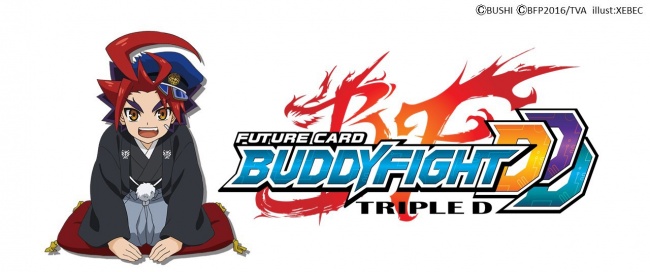 Bushiroad has revealed some upcoming releases for its
Future Card Buddyfight
trading card game.
The next release, the Triple T (Thanks! Thanks! Thanks!) Campaign, beginning March 1, will finish up the Triple D arc. This set of 12 promo cards will be available as a gift-with-purchase promo item in Bushiroad official stores.
In April, the new season of the animated series begins, and on April 21 Bushiroad will release the first tie in: the Start Dash Campaign. Players who purchase both of the two new starter decks releasing that month, Demon Lord Dragon of Tempest and Dragon Fielder, will be eligible for a limited edition set of PR cards.
Also launching on April 21 is The Dark Lord's Rebirth, the first booster expansion for the new arc. This release will be promoted with a set of six PR cards with new game characters and monsters, with one random card inserted in each booster display.
Then in early May, Bushiroad will host the Ultra Big Card Fest in Japan, celebrating Bushiroad's 10th Anniversary. This event will be held in Tokyo from May 5 to 7. In the U.S., the Vanguard x Buddyfight Grand Festival will be held in Long Beach, California, on July 1 and 2.
Bushiroad is also launching the Bushiroad Championship Series 2017, its renamed worldwide tournament, in the spring with new prize cards for all participating players (see "Bushiroad Championship Series 2017").
Bushiroad has also revealed plans for its other top-selling card game, Cardfight!! Vanguard G (see "Bushiroad Teases 'Cardfight!! Vanguard G' Releases").
Promotional images can be found in the gallery below.