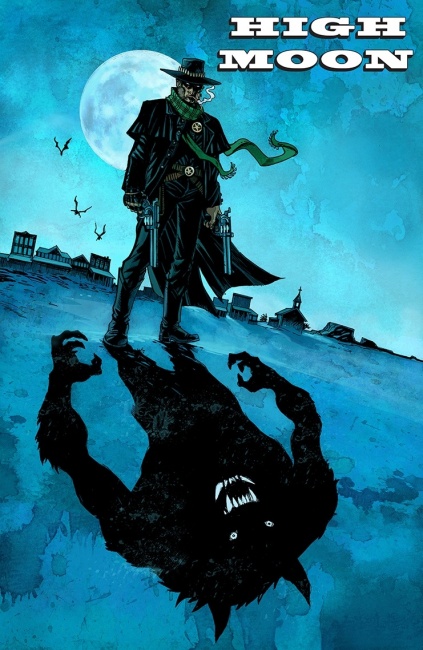 Papercutz's Super Genius imprint is set to release a remastered edition of
High Moon
starting in October.
High Moon: Bullet Holes and Bite Marks is written by David Gallaher and drawn by Steve Ellis. Papercutz will release the first volume of the acclaimed horror / Western hybrid on October 17, with a second volume to follow in May 2018. The story will conclude with a third volume of all-new material.
The series was originally published in 2007 on DC's Zuda webcomics platform, and eventually made the transition to print in 2009 (see "Zuda Makes the Jump to Print"). The Super Genius editions will be larger than the Zuda Comics printing. The new slipcased edition of the landscape-formatted series will be designed to allow for vertical shelf display without altering the layout of the original pages.
MSRP for the hardcover edition of all three volumes will be $24.99. MSRP for the softcovers is $14.99.
High Moon won a 2009 Harvey Award for online comics work (see "2009 Harvey Awards") and was nominated for two more in 2010 (see "Harvey Award Nominations").
Gallaher and Ellis also co-created the popular The Only Living Boy webcomic, which came to print in 2016 courtesy of Papercutz (see "Gallaher And Ellis's 'The Only Living Boy' Comes to Print").