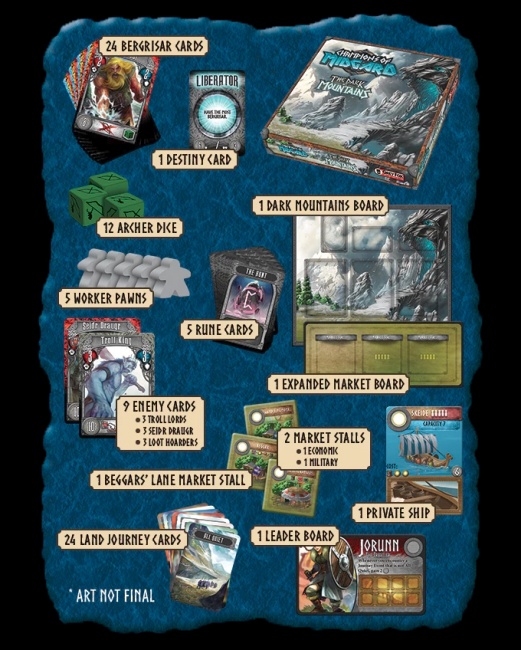 Grey Fox Games will release two expansions for its popular Viking Era worker placement/ combat game
Champions of Midgard
. The projects are currently seeking funding on Kickstarter.
Champions of Midgard is a worker placement game where players take the role of leaders of Viking clans who must defend a Viking harbor town from mythic Norse beasts. It was one of Grey Fox Games' first releases when it spun off from CoolStuffInc.com, LLC in 2015 (see "CoolStuffInc Spins Off Grey Fox Games"). The game appeared on TableTop Season 4 (see "'TableTop' Season 4 Games Announced") and has sold approximately 20,000 copies, a Grey Fox spokesperson told ICv2.
The Dark Mountains adds a fifth player to the game. It also includes new enemies, land journeys, and the addition of archer dice to liberate and recruit in battle. The box contains 24 bergrisar cards, 12 archer dice, 1 destiny card, 5 worker pawns, 5 rune cards, 9 enemy cards, 1 beggar' lane market tall, 24 land journey cards, 2 market stalls, 1 private ship, 1 leader board, 1 expanded market board, and 1 dark mountains board. MSRP is $24.99.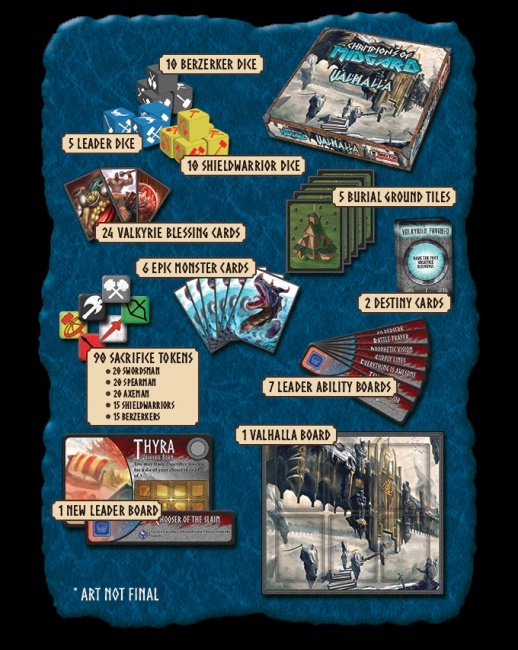 The
Valhalla
expansion introduces new mechanics to the game. There is a new resource to manage, secondary leader abilities, and leader dice to enhance combat. When warriors die in battle, the player gains favor in Valhalla, in the form of blessings, artifacts, and berzerkers and shieldwarriors. The box contains 10 berzerker dice, 5 leader dice, 10 shieldwarrior dice, 24 valkyrie blessing cards, 5 burial ground tiles, 6 epic monster cards, 2 destiny cards, 90 sacrifice tokens, 7 leader ability boards, 1 new leader board, and a Valhalla board. MSRP is $29.99.
Both expansions will release to trade 3 – 4 weeks after Kickstarter fulfillment, which is currently estimated for June. The expansions are available separately on the Kickstarter, or available together in a Kickstarter-exclusive box designed to hold all Champions of Midgard material.
The Kickstarter includes a retailer level for six copies of the combined expansion box. The Kickstarter runs through March 14.