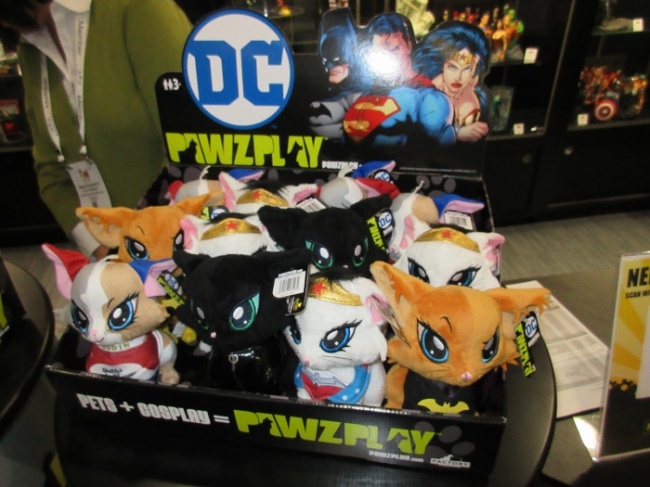 At Toy Fair 2017, ICv2 toured the Factory Entertainment booth to preview new offerings from the maker of high quality licensed toys and collectibles. Factory Entertainment President Jordan Schwartz shared details on upcoming items.
The new PawzPlay plush line combines cats and dogs with favorite DC Superheroes. The assortments are planned for Q3 or Q4, with a price point between $10 -$15.
Nerd Vaults are small coin/card purses with a Velcro closure, shaped like well-known DC Comics characters. "It's just a nice fun way to carry things around. There's an emoji style and there's a chibi style," said Schwartz. "We're just again testing the market for it, so there's no firm release date on that yet." MSRP will be $5.99.
Nerd Vision are VR headset skins which fit over the front of a Virtual Reality headsets. They will be made of a removable vinyl material, and packaged four to a pack. MSRP is $7.99. Release date was not announced.
Factory is also introducing new Harry Potter and Wonder Woman pieces to its SWAT (Soft Weapons And Tactics) toy line. There will be new brooms and bats for playing Quidditch, as well as Wonder Woman's sword and shield from the upcoming movie. Prices range from $15 - $35, depending on the item. The Wonder Woman items are due in May or June, the Harry Potter items will release in the fall.
A new line of customizable licensed walking sticks will debut in the second half of the year. Each one has a solid hardwood shaft, and features a removable top. "Effectively, for a relatively low cost, you can have a customizable product," Schwartz said. "One day you'll feel like carrying around the Joker. One day you'll feel like carrying around Spiderman. It's up to you."
Factory is expanding its Game of Thrones prop replicas line (see "'Game of Thrones' Crown Replica") with Robert Baratheon's crown. The solid metal crown is intended as a display piece but will slip over most people's heads. MSRP is $349, release is planned for Q3. It is also releasing a "Hand of the King" bottle opener which will be $15. Release is planned for Q2.
New Metal Miniatures Assortments are planned for Harry Potter, Deadpool, The Avengers, and Justice League (New 52). MSRPs range from $29.99 - $39.99. "The Black Panther is actually one of our Comic-Con exclusives for this year. We like it. It looks nice, so we thought we'd put it out there," Schwartz said.
The 360 Premium Motion Statue line will add Hawkeye & Ant Man ($199.99, Q2), Captain America Vs Iron Man ($349.99, Q2), Jokerette/Duela Dent ($124.99, Q3), Joker's Daughter ($124.99, Q3), Arkham Nurse Harley ($124.99, Q3), Wonder Woman (New 52) ($99.99, Q2), Freddy Krueger ($99.99, Q2), Shaun of the Dead Zombie Ed ($49.99, Q4), and Shaun of the Dead Vinyl Zombie ($49.99, Q4).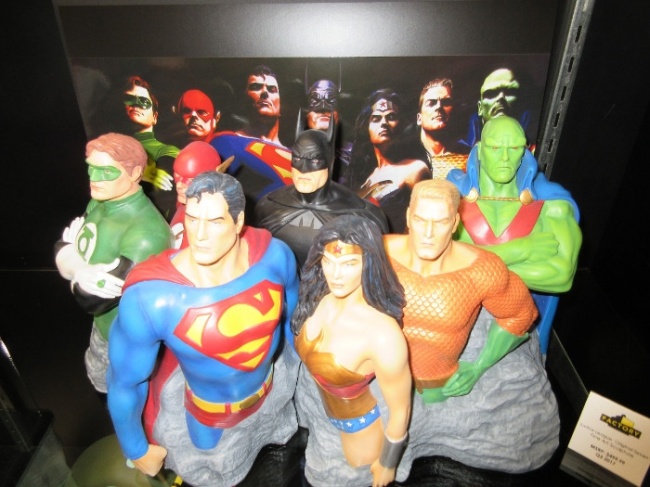 The
Justice League 'Original Seven' Fine Art Sculpture
is designed by Alex Ross. Release is planned for Q3, closer to release of the
Justice League
movie. MSRP is $499.99.
Another interesting sculpture piece is the Bat Cave Desktop Sculpture, based on a 1966 Bat Cave model. "It's going to be a very limited production run. You can see the lighting effects work very beautifully in it. The atomic pile pulses with color changing LEDs down there," Schwartz said. "The final version will actually have lights in some of the computer consoles, as well." MSRP is $699.99. Release is planned for Q3.
Factory is also releasing lithographs for the Back to the Future franchise and Universal Monsters. Release is planned for mid-year.
See images in the gallery below!