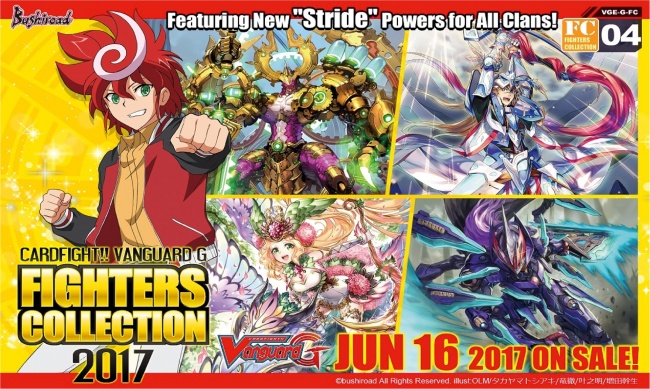 The new
Fighters Collection 2017
booster pack expansion for Bushiroad's
Cardfight!! Vanguard G
trading card game will be released on June 16.
The Fighters Collection 2017 will feature new G unit trump cards, G guardians, and Heal Trigger cards specifically designed to work with G Guardians. The set will include cards for 25 of the clans in the game—every clan except Etranger and Touken Ranbu.
The entire set will include 75 cards, all of which will be new, and all cards will have a holo treatment. The rarities will be 24 GR, 24 RRR, and 27 RR. The cards will be sold in 3-card packs, which will be available as 10-pack display boxes.
See the gallery for sample images of card art from this set.
Fighters Collection 2017 will release on the heels of the Aichi Sendou Legend Deck, scheduled for June 2 (see "Full Details on 'Aichi Sendou Legend Deck'").