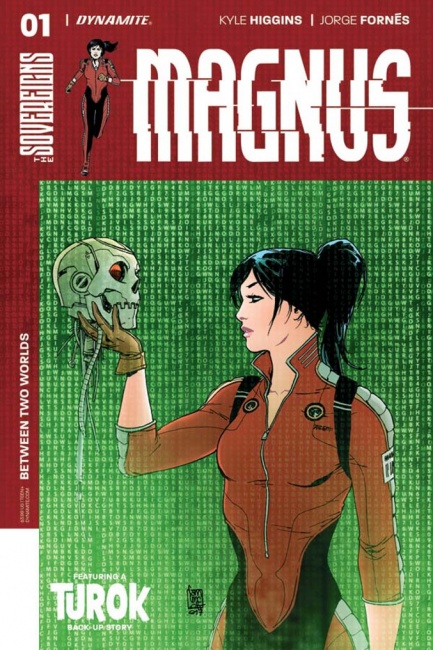 Dynamite Entertainment is bringing Gold Key's classic Magnus, Robot Fighter back for an all-new solo series with a different take on the character.
Set in a near future that has humans and artificial intelligences working alongside one another in an uneasy symbiosis, Magnus is written by Kyle Higgins (Mighty Morphin Power Rangers) and drawn by Jorge Fornés (Amazing X-Men). The series focuses on Dr. Kerri Magnus, a psychologist who works with recalcitrant AIs. The first issue will feature a Turok back-up story by Chuck Wendig (Hyperion) and Alvaro Sarraseca (Witchblade) that continues a storyline from companion title, The Sovereigns (see "Dynamite Revamps Gold Key Characters").
The first issue of Magnus features several covers, including retailer incentive variants, and will launch in June.
Magnus was created by Russ Manning in 1963. The character had a home initially at Gold Key, and more recent iterations were published by Valiant and Dark Horse (see "Dark Horse Gets Gold Key Heroes") before Dynamite relaunched the character in 2014 (see "Dynamite Reviving Gold Key Heroes in 2014").
Click the Gallery below for all of the covers for Magnus #1.