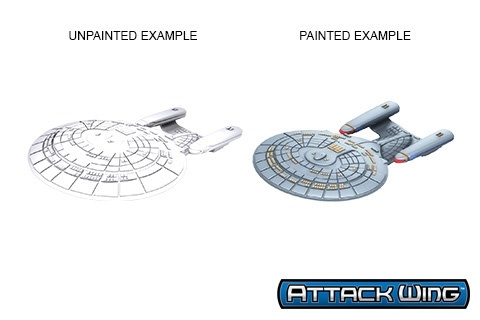 WizKids is offering another opportunity for fans of their miniatures to paint their own versions with a new line of
Star Trek
ships called
Star Trek Deep Cuts
. The first ten models in the new line will launch in August.
Each package in the new series features one plastic model ship from the Star Trek universe, pre-primed using model primer from Acrylicos Vallejo so painters can get started quickly. Along with the model, additional components needed to use the ship in the Star Trek: Attack Wing game are also included: a base with two pegs and a connector, and a decal sheet. Each individual model will be MSRP $5.99.
The first batch of ships will include:
Klingon Bird-of-Prey
Federation Intrepid Class
Reman Warbird
Klingon K't'inga Class
Federation Defiant Class
Federation Galaxy Class
Federation Sovereign Class
Romulan D'deridex Class
Romulan Bird-of-Prey
Federation Constitution Class
See the gallery below for images of the models.
Star Trek: Attack Wing continues to be a steady hit for WizKids, with the 31st wave of models releasing in July (see "'Star Trek: Attack Wing' Wave 31").