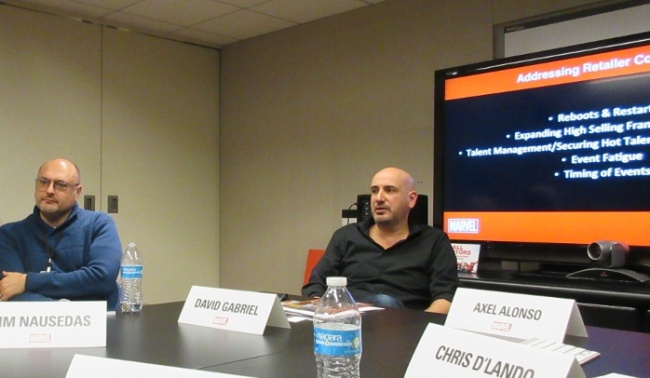 The first Marvel Retailer Summit of the millennium took place at the Marvel Entertainment offices in New York City last Thursday and Friday (see "
Marvel Planning Retailer Summit
"). ICv2 was invited to attend so that retailers (and others) that were not able to participate could learn much of what took place at the event through our reporting. There were some restrictions on what we could photograph, and we were asked not to report on editorial plans that were disclosed to the attending retailers but have not yet been publicly released. There were no restrictions on our reporting on the very frank discussions of sales trends, what retailers are seeing in their stores, and Marvel's responses to the questions that were raised.
Representatives of 14 retail organizations attended. They were drawn from geographically diverse locations around the U.S. and one from Canada. They were all among the Marvel's top 300 comic store customers.
This was the first event of its kind since Marvel emerged from bankruptcy 20 years ago. The company elected to host the event this year as a way to gather information from the people on the front lines, to get feedback from retailers on its plans, and to communicate that it's hearing retailer concerns and engaging with them moving forward. Based on the results, it's an event that may take place annually, Marvel SVP-Sales and Marketing David Gabriel said.
The instructions to retailers were to "say what you need to say," with no holds barred (not that we've ever known comic retailers to be shy about sharing their opinions). Questions were gathered before the event, and solicited throughout. Editorial staff, including Editor-in-Chief Axel Alonso, Senior Vice President Publishing Tom Brevoort, and others participated in the discussions of content and made presentations on plans for upcoming initiatives.
Among the editorial topics discussed were reboots and restarts, event fatigue, timing of events, political overtones in comics, and legacy vs. new versions of characters, all subjects we've been hearing a lot about from retailers over the past months.
Marketing staff participated in all the discussions, and made presentations on current and upcoming marketing plans.
Response from the retailers in attendance was generally positive, both because Marvel was making an effort to communicate and gather input, but also because of the content of the presentations, which were seen as promising signs of better sales ahead after a tough start to the year.
Over the next few days, we'll be reporting in depth on the discussions and presentations that took place at the Marvel Retailer Summit. Both the event and the plans discussed represent major shifts in strategy for Marvel, and we laud their transparency in inviting us to attend and report on them.