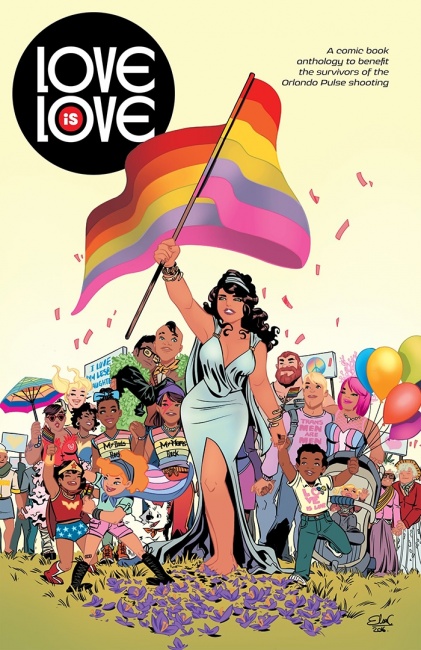 The
Love Is Love
anthology has raised more than $165,000 for the victims and families affected by the tragedy at Orlando's Pulse nightclub.
The New York Times-bestselling graphic novel anthology was released in December by IDW Publishing with the support of DC Entertainment (see "'Love Is Love' Gn Honors Pulse Victims"). Conceived and curated by Marc Andreyko and edited by Sarah Gaydos and Jamie S. Rich, proceeds from the publication have been donated to the OneOrlando Fund to assist those impacted directly by the 2016 shooting.
"I am overwhelmed by the response to Love Is Love," said Marc Andreyko. "Never in my wildest dreams could I have imagined that this project would not only raise so much money, but touch so many lives around the globe."
The anthology, which has been nominated for a GLAAD Media Award for Outstanding Comic Book, is about to enter its fifth printing. Future proceeds will be donated to LGBTQ charities.