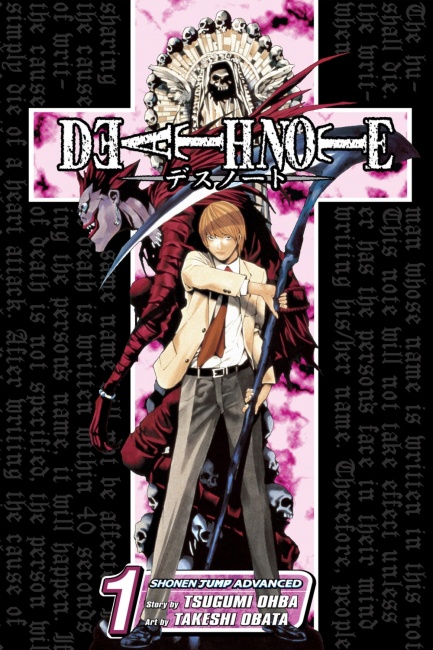 VIZ Media recently announced their titles for fall and winter release, including a new
Death Note
edition,
Naruto
, and more.
The Death Note All-in-One Edition combines all 12 volumes (2,400 pages) of Tsugumi Ohba and Takeshi Obata's acclaimed manga into one slipcased volume. The edition also contains a never-before-translated epilogue and will be out this fall. The manga inspired a live-action movie that will debut on August 25 (see "First Teaser for Live-Action 'Death Note'").
Naruto: Chibi Sasuke's Sharigan Legend Volume 1 debuts digitally in July and hits shelves in September. VIZ has previously serialized the Shonen Jump comedic series by Masashi Kishimoto and Kenji Taira online.
Tokyo Ghoul Illustrations: Zakki collects artwork, notes, and commentary from Tokyo Ghoul creator Sui Ishida. The volume will be available in November.
The work of horror manga maestro Junji Ito is celebrated in Shiver: Junji Ito Selected Stories. Nine stores chosen by the master himself, the volume includes notes and commentary from Ito and will be available in December.
Set in a mysterious orphanage, The Promised Neverland from Kaiu Shirai and Posuka Demizu gets a digital first debut in October and print edition in December.
Another digital first debut, Astra Lost in Space will be available in October with the print edition to follow in December. The series finds eight high school students and one child stranded 5,000 light years from Earth.
Children of the Whales Volume 1, a post apocalyptic fantasy set on an island city of clay and magic from Abi Umeda, will be available in November.
November also sees the debut of SP Baby Volume 1, a new josei manga series from Maki Enjoji that follows Tamaki Hasegawa, who suddenly finds herself a bodyguard for the prime minister's nephew.