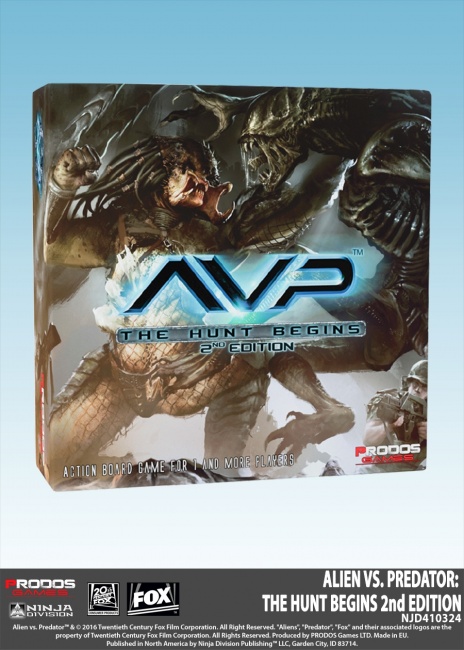 Ninja Division will release a streamlined second edition of
Alien vs. Predator: The Hunt Begins
miniatures game on May 21. The new edition features a host of upgrades, streamlined rules, and a much lower price point.
(Click either image for larger view.)
AVP: The Hunt Begins was released in the U.S. by Ninja Division in 2015 (see "'Alien vs. Predator: The Hunt Begins' Mini Game Gets U.S. Release"). The large box measured 20.5 " x 12.5" x 3", and weighed 8 lbs. MSRP was $119.95. The AVP 2nd Edition box is a square 11.8" x 11.8" x2.7" and only weighs 5 lbs. MSRP is $59.95. Despite the reduced shelf space, all game components will fit in the box, and it has foam pre-cut storage for figures and cards. The new models are single cast (no building), and are each color-coded for their faction, so the game is now ready to play out of the box with no assembly. The new board pieces feature new art and are no longer double-sided, but are still compatible with the old edition.
The rule book is smaller and includes diagrams of the rules with examples of play. It includes advanced rules which give point values for miniatures to balance play, and allows players to link their games in a campaign. There is also a new AVP Last Stand system which features aggressive combat against the aliens. The rules updates allow players to link their old box set with the new one.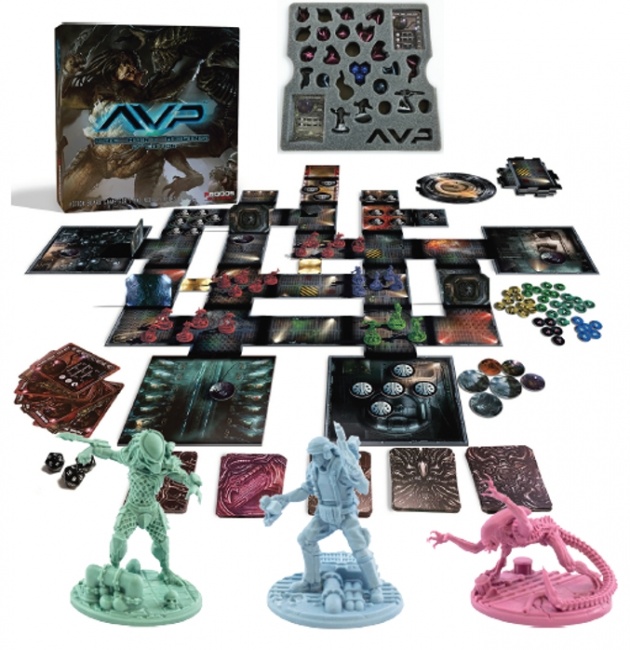 The box contains 25 miniatures, 75 game board tiles, 110 cars 3 D20 dice, 143 tokens, and a rulebook. The game is for 1 – 3 players, ages 12 and up and plays in 30 – 90 minutes.
All hobby level booster packs and models which were previously released are compatible with this new release.