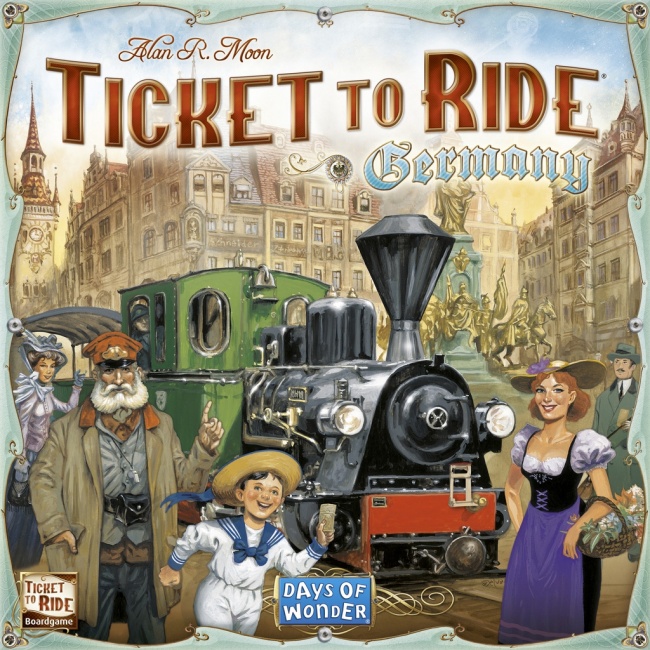 Days of Wonder has announced plans to release
Ticket to Ride: Germany
worldwide. The new game will release in Europe this June and at Gen Con in the U.S.
Ticket to Ride: Germany
is a revised version of the Germany-only
Zug-um-Zug: Deutschland
, originally released in 2012. It is played on a map of late 19th Century Germany, based on the same route network as the
Ticket to Ride: Marklin
edition (see "
'Ticket to Ride Marklin Edition'
"). This version of the game introduces a new Passenger mechanic, in which players race to collect the limited supply of Passenger Meeples from the different cities on the board.
Ticket to Ride: Germany
will also feature short and long Destination Tickets, allowing players to tailor their choices, and a special "Globetrotter" bonus card.
Ticket to Ride: Germany
includes 1 game board, 225 train car tokens, 200 cards, 60 passenger meeples, 1 cloth bag, and 5 scoring markers. MSRP is $50.00. The game was created by veteran designer Alan R. Moon, and supports play by 2 to 5 players, ages 8 and up. Games typically take 30-60 minutes. This stand-alone game does not require any earlier
Ticket to Ride
games.
Ticket to Ride
has long been a cornerstone of Days of Wonder's product lineup, ranking ninth on ICv2's top 10 list as of last fall (see "
Top 10 Hobby Channel Board Games--Fall 2016
").