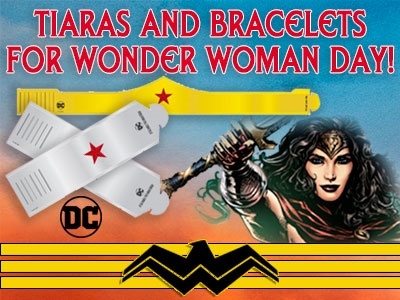 DC Entertainment is adding combat accessories to the list of giveaways scheduled for "Wonder Woman Day" on Saturday, June 3.
DC is celebrating the theatrical release of Wonder Woman with a free comic giveaway in participating comic stores, libraries, and bookstores (see "DC Celebrates 'Wonder Woman Day'"). Now, due to retailer requests, DC is also providing promotional Wonder Woman Tiara and Bracelets Sets. Retailers will receive free bundles of tiaras and bracelets based on the store's FOC orders for Wonder Woman #19. (The store's April 12 FOC list will show how many complimentary bundles will be provided.)

A single bundle includes 25 tiaras and 50 bracelets, packaged separately. Retailers are welcome to order more bundles using code FEB17889 through Final Order Cut-off on Monday, April 17. The promotional items are scheduled to arrive in stores on May 31, to be held for distribution on "Wonder Woman Day."
The adjustable tiaras and bracelets are printed on cardstock paper, with the tiaras measuring 3" x 23", and the bracelets measuring 2" by 9.75".
Wonder Woman opens in theaters on June 2 (see "New 'Wonder Woman' Trailer").