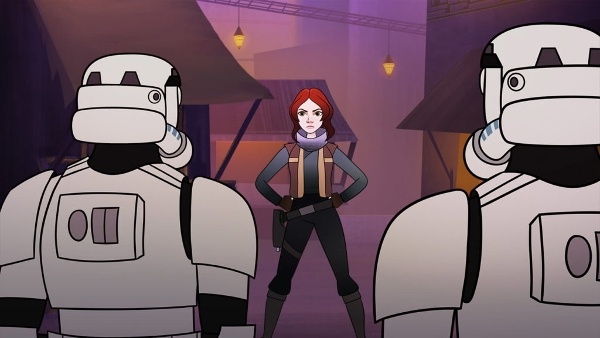 In a page that appears to have been taken from DC Entertainment's
Super Hero Girls
(see "
DC Launches 'DC Super Hero Girls' Universe
"), Lucasfilm is launching
Star Wars Forces of Destiny
, a new IP featuring female characters, with web shorts and toys, followed by other products.
A series of
Star Wars Forces of Destiny
animated shorts (2-3 minutes each) from Lucasfilm Animation, featuring Rey, Jyn Erso, Sabine Wren, Princess Leia, Ahsoka Tano and others, will debut in July. A two-part Disney Channel TV special will showcase eight additional shorts in Fall 2017. The shorts will tell "untold stories of everyday heroism that shape the destinies" of the characters, and will be "true to the Star Wars canon," according to the announcement.
The voice cast will include Daisy Ridley (Rey), Felicity Jones (Jyn), Tiya Sircar (Sabine), Ashley Eckstein (Ahsoka Tano) and Lupita Nyong'o (Maz Kanata as narrator).
Hasbro will debut a line of toys tied to
Star Wars Forces of Destiny
, including 11-inch "Adventure Figures," which will bridge "the gap between traditional action figures and dolls." Adventure Figure characters will include Rey, Jyn Erso, Princess Leia, Sabine Wren, and sidekicks and villains including BB-8, Chewbacca, and Kylo Ren. The figures will each include dynamic action, such as Rey swinging her lightsaber, and multiple points of articulation. Hasbro is also producing role play and accessories tied to
Forces of Destiny
, including Rey's Extendable Staff, and a new, electronic Jedi Power Lightsaber.
In a perfect rendition of gender-less positioning, the word "girls" is never used in the announcement. Lucasfilm President Kathleen Kennedy described the target audience this way: "
Star Wars Forces of
Destiny
is for anyone who has been inspired by Leia's heroism, Rey's courage, or Ahsoka's tenacity," she said.
Other products including books, apparel, and bedding are planned; no word on comics, graphic novels, or games yet.
Click the videos below for a Star Wars Forces of Destiny preview short and a featurette.
Click the Gallery below for animation art and photos of Adventure Figures!