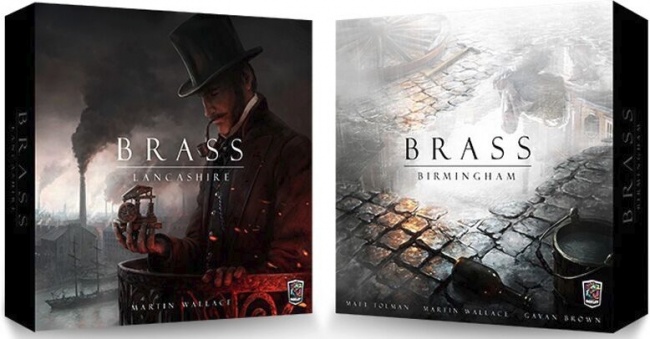 Brass
, Martin Wallace's strategy game of the early industrial revolution, will soon be back in two new versions from Canadian publisher Roxley Games:
Brass: Lancashire
and
Brass: Birmingham
.
Brass: Lancashire is Wallace's original version of the game, upgraded with lavish new illustrations and featuring a few adjustments to the game rules to improve play balance. In particular, the two- and three-player versions have been updated.
This version comes with a highly-detailed map of Lancashire by artist Damien Mammoliti (The Witcher Adventure Game), 182 tiles, 64 cards, 4 player mats, 9 wooden discs, 40 wooden cubes, 4 VP markers, and 70 money tiles.
Brass: Birmingham is a sequel to the original, with additional design work by Matt Tolman and Gavan Brown (the pair behind Super Motherload), including a variable setup, new scoring methods, and three new industries to invest in.
This version includes a gameboard, 198 tiles, 72 cards, 4 player mats, 15 beer barrel tokens, 8 wooden discs, 40 wooden cubes, 4 VP markers, and 70 money tiles.
Both games are intended for 2 to 4 players, ages 14 and up, and take 2 to 3 hours to play. MSRP has not yet been set for either game.
Roxley is funding both games with a combined Kickstarter campaign that has broken the half-million mark with 20 days remaining.
There was a public dispute over the rights to Brass last year (see "Eagle-Gryphon Edition of Martin Wallace Game Sold to One U.S. Retailer").