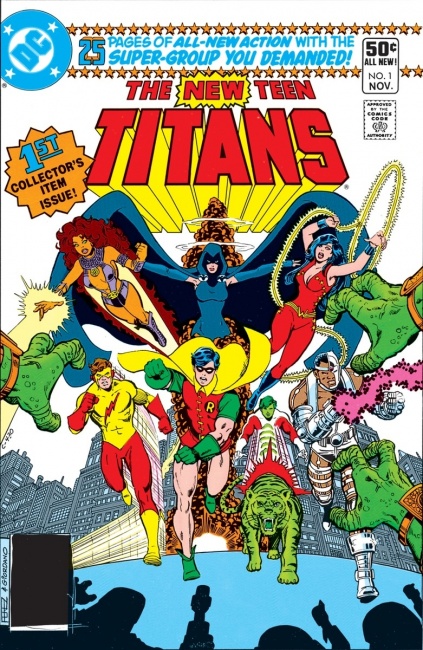 Warner Bros. Television and DC Entertainment announced the new live-action
Titans
drama series will debut in 2018 on a new DC-branded direct-to-consumer digital service. The series will be joined by the third season of the popular
Young Justice
series.
The live-action Titans series will be executive produces by Akiva Goldsman, Geoff Johns, Greg Berlanti and Sarah Schechter. Goldsman had the show in development at TNT, but it was dropped in 2016 (see "Post-Holidays Geek TV Round-Up"). The series will follow the band of young-adult super heroes from the DC Universe, and will include team leader Dick Grayson, Starfire, Raven and others. The series will be written by Goldsman, Johns, and Berlanti.
Young Justice: Outsiders is the third season of the animated series that aired for two seasons on Cartoon Network. The second season ended in 2013, but Warner Bros. Animation announced the show would be returning for a third season in late 2016 (see "'Young Justice' Returns"). In the new season, the heroes take on a meta-human trafficking ring that threatens to ignite a genetic arms race that encompasses the galaxy. Sam Register will executive produce. Brandon Vietti and Greg Weisman will produce. Phil Bourassa will serve as series art director.
Both series will air exclusively on the DC over the top (OTT) service, operated by Warner Bros. Digital Networks Group. WBDNG was founded in 2016 and is responsible for creating building digital and OTT video services, producing digital native content, and growing the company's direct to consumer capabilities. The WBDNG portfolio currently includes Boomerang (partnership with Turner), Machinima, Warner Archive, State 13, DramaFever, Ellen Digital ventures (partnership with Ellen DeGeneres), Uninterrupted (partnership with LeBron James and Maverick Carter). WBDNG works closely with sister divisions HBO and Turner.