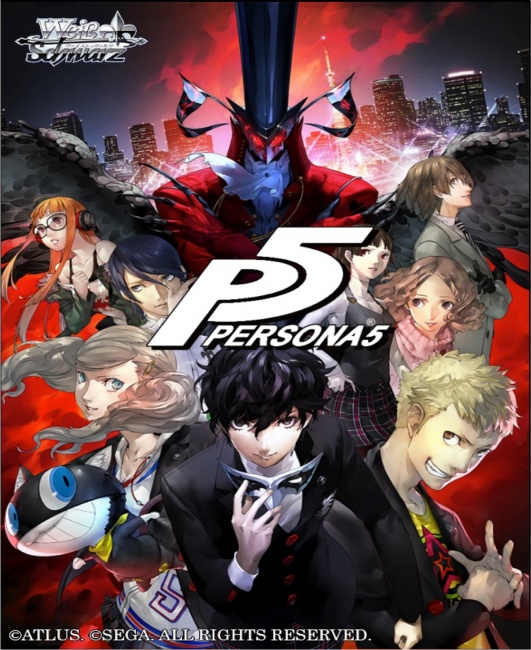 The characters of the video game
Persona 5
are joining Bushiroad's trading card game
Weiss Schwarz
in an upcoming release scheduled for July 28.
Gifted with unique "Persona" powers, the students of Shujin Academy in Tokyo travel the city by night to change the hearts and minds of adults, hoping to eliminate their ill intentions.
The Persona 5 expansion will include a Trial Deck and Booster Packs.
The Persona 5 Trial Deck is a fixed 50-card deck constructed entirely of cards exclusive to this deck. Included with the cards are a rules sheet, deck manual, playbook, and playmat. Some random decks will also include one of two SP gold foil hot stamp cards featuring signatures from Japanese voice actors Jun Fukuyama or Ikue Otani. The Trial Deck will be packaged in a 6-deck display.
The other 100 cards that make up the expansion will be available in 8-card Persona 5 Booster Packs, including the 32 parallel cards in the set. Some random boosters will have exclusive hot stamped signature cards signed by Jun Fukuyama, Mamoru Miyano, Nana Mizuki, Ikue Otani, Tomokazu Sugita, Rina Satou, Aoi Yuki, or Haruka Tomatsu. Booster packs will be available in 20-pack displays, and each 16-display carton comes with four limited edition playmats.
The English language version of the new expansion does not include the gold or silver campaign coupons from the Japanese Edition. They may only be used in tournaments held outside of Japan.
Persona 5 follows the June release of another Weiss Schwarz expansion, BanG Dream! (see "More 'Bang Dream!' for 'Weiss Schwarz'").