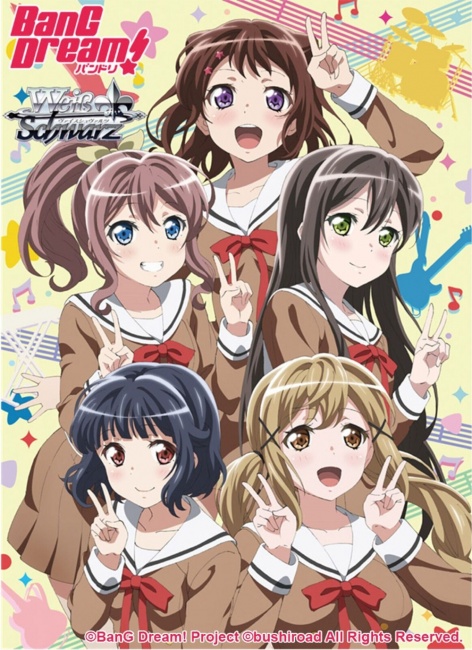 The girls of the animated music group "Poppin Party" are back in a new
Weiss Schwarz
booster pack expansion releasing June 30.
BanG Dream! was the focus of a trial deck released earlier this year (see "'Weiss Schwarz' Expands with 'BanG Dream!'"), based on stories originally published in Monthly Bushiroad and a new animated series. The stories follow a group of young women who form a music group in the hope of becoming the ultimate pop idols.
The BanG Dream! booster expansion will be sold in 8-card packs. The complete set includes 120 cards with 27 parallel cards and 10 special cards. Exclusive gold foil hot stamp signature cards will be randomly inserted in some packs. These chase cards feature signatures of voice talent from the animated series, including Kasumi Toyama, Tae Hanazono, Rimi Ushigome, Saya Yamabuki, Arisa Ichigaya, Yuri Ushigome, Nanana Wanibe, Rii Uzawa, Hinako Nijikki, and Asuka Toyama.
The English language version of the new expansion does not include the gold or silver campaign coupons from the Japanese Edition. They may only be used in tournaments held outside of Japan.