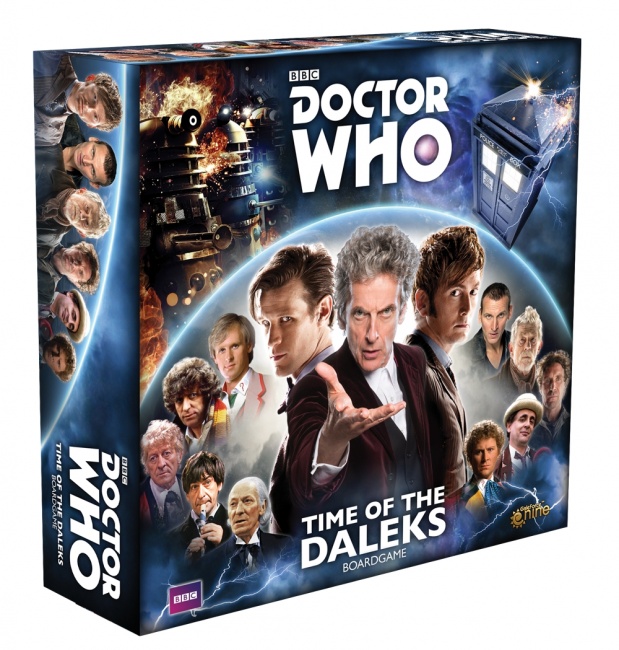 Gale Force Nine announced its upcoming licensed
Doctor Who
board game
Time of Daleks
has been reconfigured from initial plans (see "
New Info Revealed for 'Doctor Who: Time of the Daleks'
").
The game was initially announced as being for 1 – 6 players, now it has been restructured as a four player game, featuring Doctors 1 , 4 , 11 and 12, with an expansion following shortly after initial release that adds Doctors 5 and 10. The expansion will increase the game to 5 -6 players, and include the 2 Doctor figures, 2 new tardis, planets and dilemmas specific to the new Doctors, as well as companion and timey whimey cards. MSRP is $25.00.
The base game now contains15 Character markets (4 Doctor markers, 5 Dalek markers, 4 Tardis markers, 1 Davros marker, 1 Dalek ship marker), 1Earth and the Web of Time scoreboard, 4 Tardis consoles, 40 adventure tiles (20 location tiles, 20 dilemma tiles), a token sheet, 31 character cards (4 Doctor cards, 15 Earth companion cards, 12 alien companion cards ), 30 timey wimey cards, 8 time anomalies, 18 dice (1 Tardis die, 3 green story dice, 3 blue story dice, 3 red story dice, 8 black story dice), and a rulebook. A special K-9 companion model will be included in the first print run. The game is for 2 -4 players, ages 14 and up, and plays in 2 hours. MSRP is $50.00.

GF9 has already planned additional expansions for the game for the second half of the year. New Doctors will be added individually in $15.00 expansions, which will include a new figure, a new tardis, planets and dilemmas to add to the base game, as well as companions and timely whimey cards.
GF9 also plans to add the War Doctor and some other specials for Christmas as the end of the year.