Jim Cavanaugh, proprietor of Clint's Books Comics & Games of Kansas City, Missouri, possibly the oldest continuously operating comic store in the U.S., died Friday from injuries incurred as he attempted to stop a robber escaping from his store with stolen comics, according to The Kansas City Star. According to an eye witness, Cavanaugh followed a white adult male carrying comics from the store to his car, pulled a handgun, and tapped on the car's window. The car door was opened and the car backed up, throwing Cavanaugh to the pavement where he struck his head. He died shortly after arriving at the hospital. The killer fled.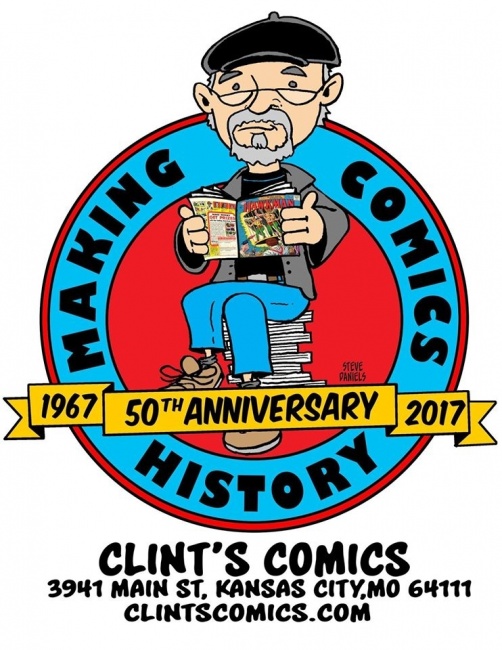 Clint's Books and Comics was celebrating its 50th anniversary this year. The Cavanaugh family bought it in 1975 and has operated it ever since.
Cavanaugh also operated Cavco, one of the early direct comic distributors that were then beginning to form a new distribution system serving comic stores, in the 1980s. We remember Cavanaugh from that era as a colorful, hot-tempered entrepreneur with a love for the medium. Cavco bought Texas-based Longhorn Distribution and had a double digit market share of the direct market comics business before the company failed.
Action Direct, a company operated by Cavanaugh's ex-wife Sharon Farris, obtained many of the retailer customer orders and was able to secure Marvel and DC accounts. Cavanaugh managed warehouses for Action Direct until the company went out of business around 1990.
Cavanaugh then returned to retailing at Clint's, which he continued until his death last week.
Frank Mangiaracina, proprietor of Friendly Frank's B-Bop Comics, a fellow Kansas City retailer and one-time distributor competitor of Cavanaugh's in the 80s, described him in an interview as "one of the only guys I could talk to about everything from Robert Crumb to Hal Foster. He appreciated the finer points of the art form."
Noting Cavanaugh's devotion to his store and his lack of interest in retiring, Mangiaracina said of the way he died, "He might not have been disappointed that he died fighting for what was his."
See a 2014 video profile from a local news outlet below.