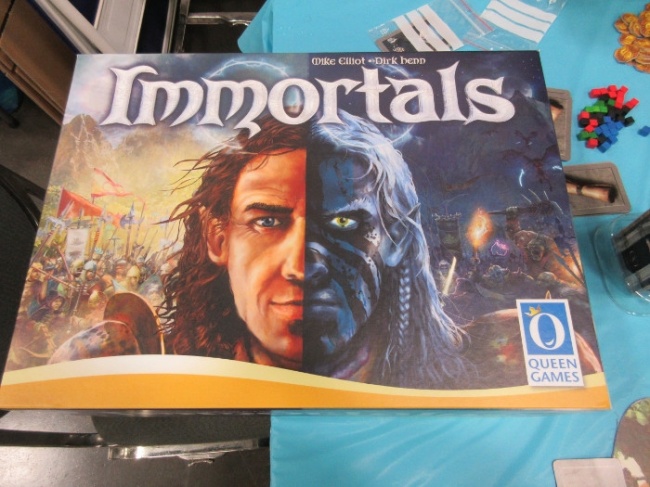 At Origins, Queen Games was previewing the area control game
Immortals,
designed by Mike Elliott (
Thunderstone, Quarriors!, Marvel Dice Masters
) and Dirk Henn (
Shogun, Alhambra, Metro
). Queen Games will premiere the game at Gen Con, with trade release following the show.
In the fantasy war game, players take roles as immortals participating in the never-ending battle for control of both the light and dark realms. Every time an army is defeated and killed in one realm, they resurrect in the other. The players are trying to control areas in both the light and dark realms, capitalizing on resources (energy, gold, inhabitants) to build structures and maintaining control of territory to score victory points at the end of the game.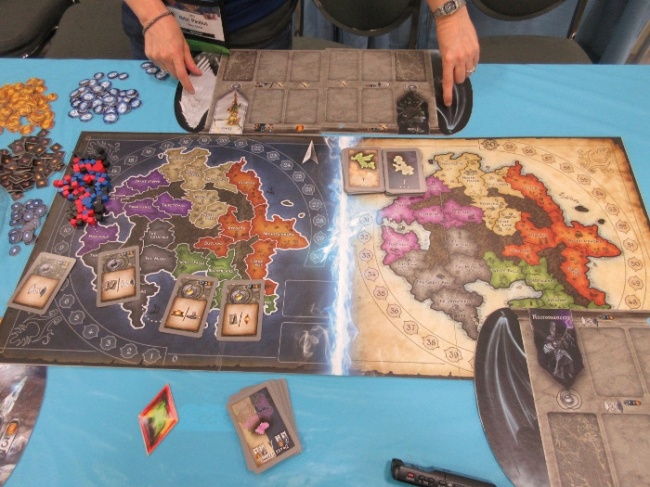 The game includes 25 Region cards, 60 Conflict cards, 20 Blank cards, 20 Magic cards, 10 round tracker cards, 10 tribe tokens, 10 tribe boards, 225 wooden cubes (45 each of 5 colors), 20 green cubes (inhabitant armies), 5 victory point tokens and 60 markers, 50 building tiles, 26 portals, 65 gold coins, 65 energy tokens, a first player marker, a dice tower, and a rules booklet. The game is for 3 – 5 players, and plays in 120 minutes. MSRP is $80.00. [Updated 6/20/17]
See multiple game images in the gallery below.
Queen is releasing two "Big Box" versions of Escape games this month: The Curse of the Temple 2nd Edition and Zombie City (see "New 'Big Box' Versions of 'Escape'").