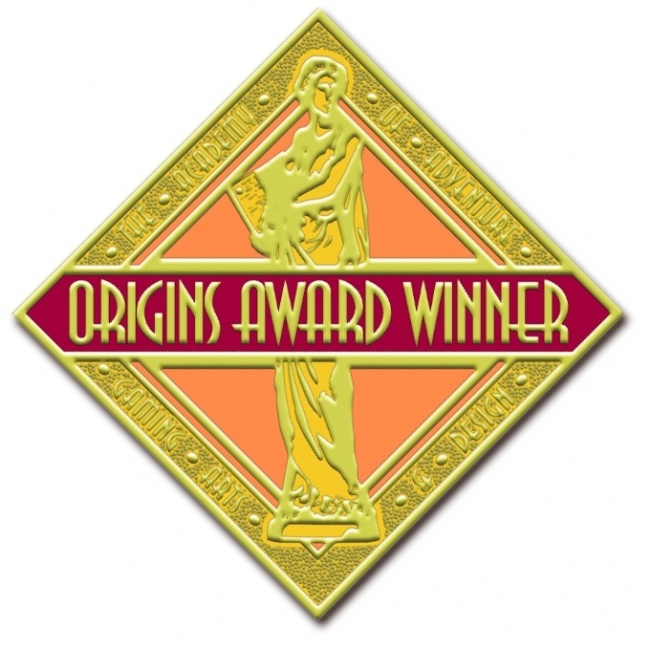 The Academy of Adventure Gaming Arts & Design announced the winners of the 2017 Origins Awards, presented last weekend at the ceremony at Origins Game Fair in Columbus, Ohio. The nominees and winners were selected by the Academy.
Game of the Year
Scythe - Stonemaier Games
[This award added to our report on June 20, on receipt of more complete information from GAMA]
Board Game of the Year
Scythe - Stonemaier Games
Card Game of the Year
Mystic Vale - Alderac Entertainment Group
Collectible Game of the Year
Pokemon XY11 Steam Siege - The Pokemon Company
Family Game of the Year
Happy Salmon - North Star Games
Game Accessory of the Year
Blood Rage Organizer - The Broken Token
Miniatures Game of the Year
Warhammer 40K: Kill Team - Games Workshop
Role-Playing Game of the Year
No Thank You, Evil! - Monte Cook Games
AAGAD Hall of Fame
There were two designers admitted to the Academy of Adventure Gaming Arts & Design Hall of Fame this year: Mike Elliott and Jennell Jaquays. Elliott has designed 20 trading card games, including the Japanese hits
Duel Masters
and
Battle Spirits,
as well as co-designing
Dice Masters
and
Quarriors!
with Eric M. Lang. Jennell Jaquays was inducted for her work on
Dungeoneer
magazine and contributions to many role playing games in the early days of the RPG industry.
The Hall of Fame honors people who have made critical contributions to gaming, including designers who have elevated game design to an art, those who elevate the art found in game design, those who made contributions to the business side of gaming, and those whose contributions have been in service to the industry as a whole. It also includes a number of games and game related materials. Inductees include Don Turnbull, Tod N. Shaw, E. Gary Gygax, Steve Jackson, Charles Roberts, Greg Stafford, Rick Loomis, Jim Ward, Sandy Petersen, Julie Guthrie, Jordan Wiseman, Tracy Hickman, Margaret Weis, and Lisa Stevens.
Here's the full list of the many fine games that were nominated for awards this year (see "Origins Award Nominees").
Here is a list of winners for the 2016 Awards (see "2016 Origins Award Winners").