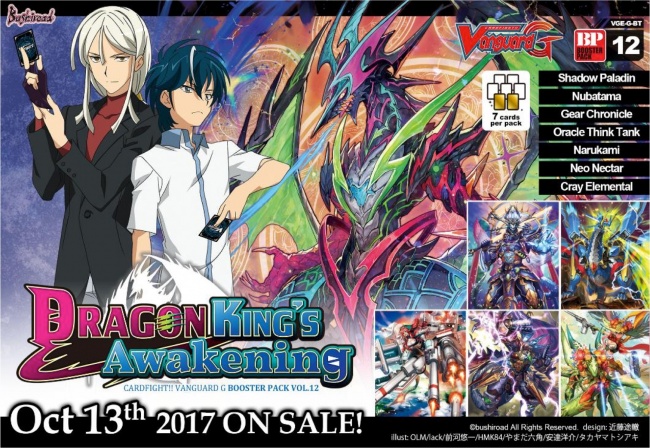 The next stage in the ongoing
Cardfight!! Vanguard G Next
animated series makes its debut in the trading card game with the release of the
Dragon King's Awakening
booster expansion, scheduled for October 13.
Dragon King's Awakening features trump cards used by the protagonists in the animated series, and includes a number of cards designed to work in Nubatama Trial Decks. With these cards, the Dragheart, Luard can awaken into the Dragon King, while Battle Sister units get a boost from Oracle Think Tank and Narukami strengthens the Thunderstrike ability.
This set includes a total of 104 card types with 99 new cards and 5 reissued cards, with the following rarities: 2 GR, 9 RRR, 13 RR, 24 R, and 56 C. In addition, 12 SP Parallel cards and 2 Super GR Parallel cards are available, as are Special Reissues of Steam Tamer, Arka and Dragonic Vanquisher. Cards will be available in 7-card packs, each of which will have 2 R or higher rarity cards.
See the gallery for sample images of card art from this set.
To support the launch of the new set, Bushiroad is offering a Sneak Preview Kit for stores that will host events during the weekend of October 6 to 8. Each Sneak Preview Kit comes with 39 boosters, 9 promo cards, and 2 premium rubber playmats. Each kit is designed to support 8 participants.
Dragon King's Awakening will release about a month after Demonic Advent and the Nubatama Trial Deck, both scheduled for September 1 (see "Team Diffrider Attacks With 'CFV G: Demonic Advent'").