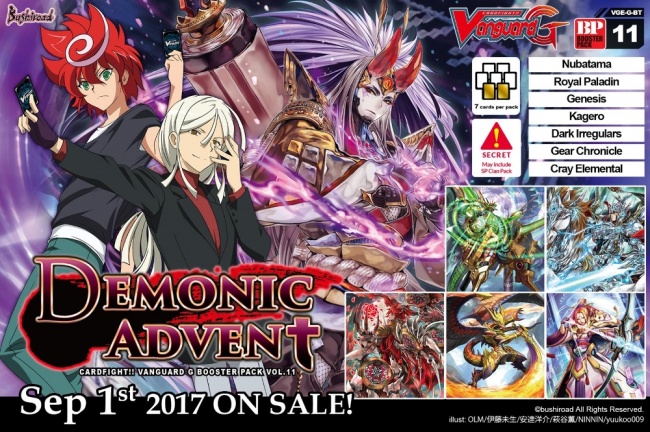 Bushiroad will release the
Demonic Advent
Booster Pack
for its
Cardfight!! Vanguard G
trading card game
,
as well as the first Nubatama
Trial Deck – Evil Eye Sovereign,
on September 1.
Demonic Advent includes new trump cards that can be used by both the protagonists team and rival teams, as well as many cards that can strengthen the Nubatama Evil Eye Sovereign Trial Deck which releases the same day. The popular SP Clan pack will also be randomly inserted in booster displays.
Cardfight!! Vanguard G Booster Pack Vol. 11 – Demonic Advent includes 104 types of cards (98 new cards, 6 reissues) (GR: 2 / RRR: 9 / RR: 13 / R: 24 / C: 56) + SP: 12 [12 Parallel] + SGR (Super GR): 2 [2 Parallel] + Special Reissue: 3 (+ SP: 35 [From SP Clan Pack]). Each pack contains 7 random cards, and 2 cards in every pack will definitely be R of above.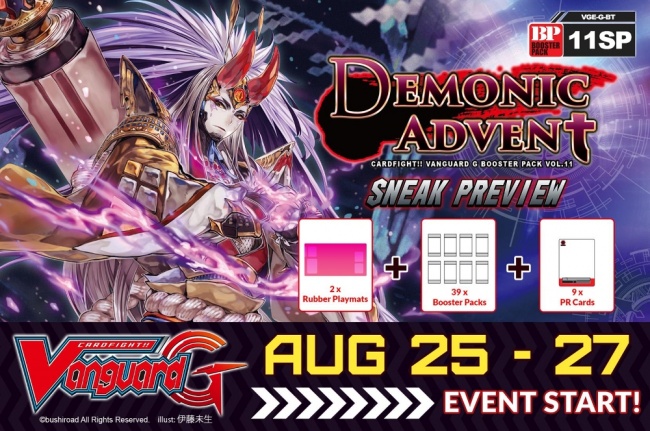 The
Demonic Advent Sneak Preview Event
will take place on August 25 – 27. The
Sneak Preview Kit
contains enough product for an 8 player event: 39 booster packs, 8+1 promotional cards, 2 premium rubber playmats (1 design).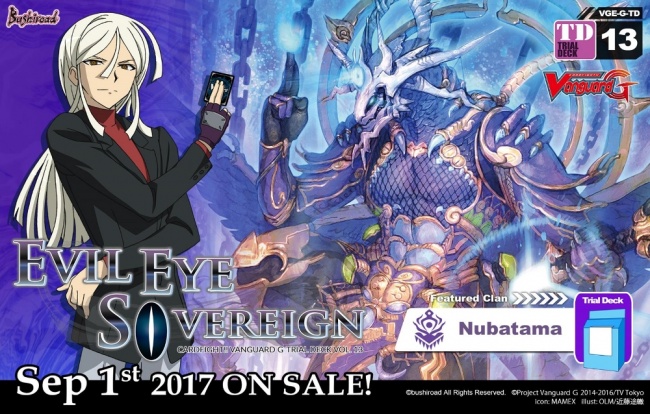 The leader of Team Diffrider, the antagonistic Kazumi Onimaru from the
Cardfight!! Vanguard G NEXT
animation's trial deck will also release on September 1:
CFV G Trial Deck 13 – Evil Eye Sovereign.
The deck introduces the new keyword ability for Nubatama, "Dominate," which forces the opponent to play differently. The deck contains 54 cards (50 deck cards, 4 G Unit cards). There are 18 types of cards (17 new and one reissue, inclusive of 4 holo cards). The deck also includes a guide, playmat and "Nubatama" clan card. The
These releases will follow the Prismatic Divas expansion in July (see "Mermaids Return to 'Cardfight!! Vanguard G'").