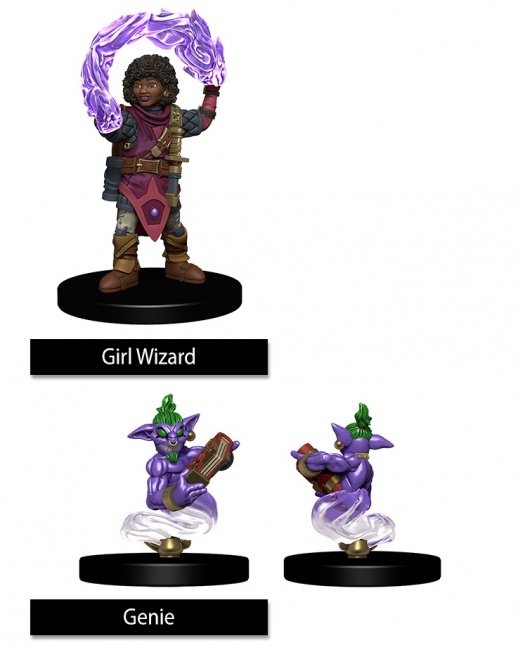 The classic fantasy-fiction trope of children acting as heroes has inspired WizKids' new line of pre-painted plastic miniatures*. The first batch of minis will release in February.
[Editor's note: At the request of WizKids, we have removed the product title from this story. For details on this matter, see "WizKids Pulls Name for New Miniatures Line"."]
The new miniatures line imagines a fantasy world where children are the main heroes, gaining powers and abilities at a young age that they use to defeat evil creatures. As they grow older, however, they gradually lose their powers, largely forgetting about their adventures in adulthood.
At this time, WizKids has only revealed plans for miniatures set in the fantasy world, though COO Bryan Kinsella hinted at other possibilities,"We're starting with pre-painted miniatures and hope it resonates with everyone; if it does we have plans to bring the story of [this world] to fans in more exciting ways."
The miniatures depict child-aged human characters in traditional fantasy fiction roles, as well as their tiny companions. Each figure is pre-painted and fully assembled, and many include translucent elements. Packaged in transparent packaging so the figures are visible, each miniatures pack includes one adventurer and one companion figure.
The first group of miniature releases will include six different adventurers:
• Boy Cleric & Winged Snake
• Girl Ranger & Lynx
• Boy Druid & Tree Creature
• Girl Wizard & Genie
• Boy Fighter & Battle Dog
• Girl Rogue & Badger
See the gallery below for images of all the figures.
MSRP will be $6.99 each.
In November, WizKids will release a set of classic Dungeons & Dragons monsters as part of its D&D Icons series (see "'Icons of the Realms: Classic Creatures'").