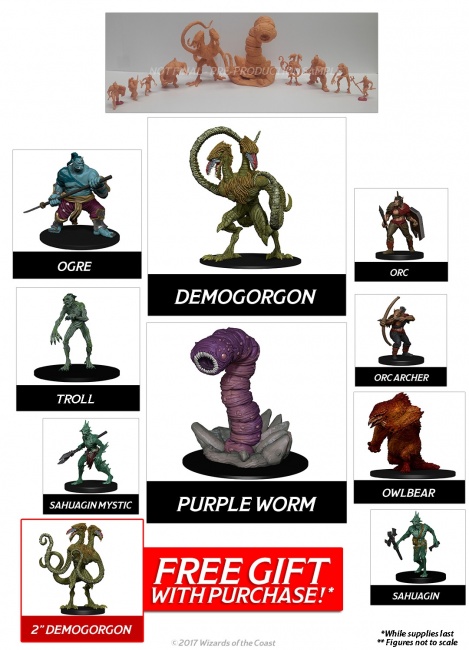 The ongoing series of pre-painted
Dungeons & Dragons
miniatures from WizKids is going back to the birth of the world's first role playing game with the
D&D Icons of the Realms: Classic Creatures Box Set
, releasing in November.
(Click image for larger view.)
The Classic Creatures Box Set features an assortment of monsters from the very early days of Dungeons & Dragons, with nine creatures that appeared in the first edition Monster Manual. This set includes traditional foes, with an ogre, an orc, an orc archer, and a troll, as well as iconic early D&D monsters purple worm, owlbear, sahuagin, and sahuagin mystic. Rounding out the set is an enormous 4-inch tall Demogorgon* to bedazzle the heroes of any D&D group.
This set features packaging designed to visibly display the miniatures. MSRP is $79.99.
As an added bonus, those who order the Classic Creatures Box Set will be eligible to receive a special gift with purchase: a 2-inch tall version of Demogorgon*. The Demogorgon Gift with Purchase will be available only while supplies last.
WizKids is offering a veritable hoard of D&D licensed products this fall, all tied to the upcoming Tomb of Annihilation storyline (see "WizKids Reveals Fall 'D&D' Product Details").
[*Editor's Note: A previous version of this story listed the Demogorgon's as 18" and 3" respectively. WizKids has updated the solicitation since the story was initially published.]