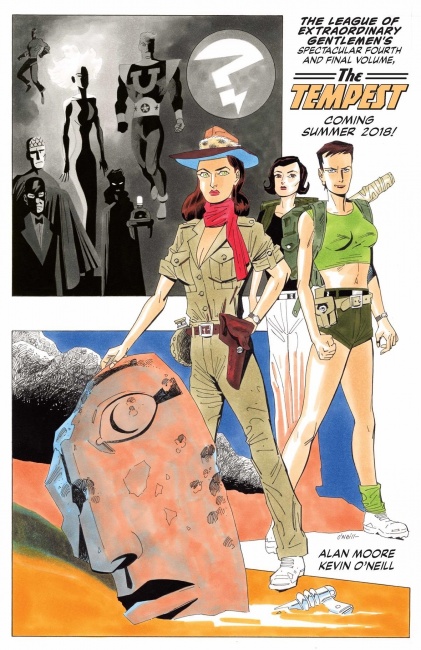 San Diego Comic-Con News:
Top Shelf Productions, an imprint of IDW, and Knockabout have announced the June 2018 debut of
League of Extraordinary Gentlemen: Tempest
, a six-issue miniseries by Alan Moore and Kevin O'Neill, which in the words of the slyly subversive catalog copy "will conclude both their (Moore & O'Neill's) legendary
League of Extraordinary Gentlemen
and their equally legendary comic book careers." Alan Moore's announced his retirement last year (see "
Alan Moore Announces His Retirement From Comics
"), but this is the first we have heard about Kevin O'Neill doing the same.
The Alan Moore-esque description released by Top Shelf continues indicating that
Tempest
will tie up plot threads from the previous
LOEG
releases (
Black Dossier
and the
Nemo Trilogy
) "into a dazzling and ingenious bow," providing a fitting capstone to the careers of "the world's most accomplished and bad-tempered artist-writer team (who) will use their most stylistically adventurous outing yet to display the glories of the medium they are leaving; to demonstrate the excitement that attracted them to the field in the first place; and to analyze, critically, and entertainingly, the reasons for their departure."
The final chapter of this "Justice League of Victorian England" saga, will appear first "as a six-issue run of unfashionable, outmoded and flimsy children's comics that will make you appear emotionally backward if you read them on the bus." In other words, the
League of Extraordinary Gentlemen: Tempest
will debut in six full-color, 32-page, saddle-stitched, standard size comic with a cover price of $4.99.