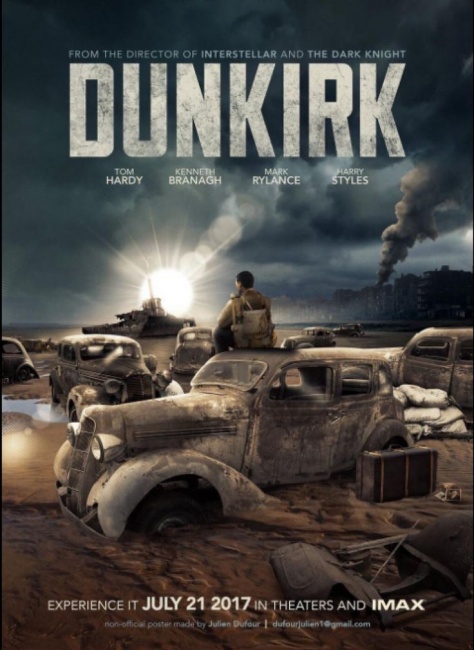 As he did with
Inception
Christopher Nolan once again demonstrated that he is one of the very few modern directors whose name above the title is an actual draw, as his World War II epic
Dunkirk
surpassed expectations with a $50.5 million bow. Also helping this week was a strong debut from the R-Rated comedy
Girls Trip
, which also performed much better than expectations with a sizzling $30.4 million debut. Aided by these stronger-than-expected openings, the total of the top 12 films was up 12.5% from the same frame a year ago when
The Secret Life of Pets
earned $51 million in its second weekend in theaters.
Aided by a superb job from Warner Bros. publicity department,
Dunkirk,
which cost about $100 million to produce, got off to a solid start. Given the recent history of WWII epics like
Unbroken
($30.6 million in 2014) and
Fury
($23.4 million in 2014), many analysts expected that
Dunkirk
would open well under $40 million, so its $50.5 million debut testifies to the power of Nolan's name (
Dunkirk
has no big movie stars in its cast) and Warner Bros.' marketing savvy. Nolan largely eschewed digital special effects in
Dunkirk,
in favor of painstakingly recreating the WWII battle conditions the old-fashioned way with vintage equipment, stunt work, and massive explosive expertise—and perhaps most importantly in terms of winning audience and critical approval, the director managed to integrate the epic scope of the production with personal stories that put the audience in the positions of the trapped soldiers and their rescuers. Nolan also filmed the epic with high detail IMAX cameras, and it is no surprise that IMAX locations accounted 23% of the film's entire domestic gross.
Don't expect
Dunkirk
to have the staying power of Steven Spielberg's
Saving Private Ryan
, the modern era's top WWII film, which opened with $31 million in 1998. Adjusted for inflation that total comes to $57.6 million, not that much more than
Dunkirk's
total, but
Private Ryan
went on to earn $2165 million in North America, the equivalent of $404.4 million today.
As might be expected the audience for
Dunkirk
skewed heavily male (60%) and older with 76% of the crowd over 25
. Dunkirk
, which has an excellent 92% positive rating on review aggregator Rotten Tomatoes, earned a solid "A-" Cinemascore from opening day audiences.
Overseas
Dunkirk
opened in 46 territories and earned a solid $55.4 million. Though it is off to a good start,
Dunkirk
will need to keep performing well in order to turn a solid profit for Warner Bros. While the movie's production cost ($100 million) is modest for a summer blockbuster, that lavish and effective promotional campaign did not come for free—and
Dunkirk
will have to try to avoid the big second weekend drops that have been all too common this summer. One positive for the film is that older audiences tend to take their time getting to the theaters—a phenomenon that really helped Clint Eastwood's
American Sniper
, another war film that appealed to older viewers, demonstrate really great "legs."
Second place went to Universal's R-Rated
Girls Trip
, which scored the biggest debut of the summer yet for a raunchy comedy, earning $30.4 million from 2,591 venues with a solid $11,722 per-theater average. This strong debut stands in strong contrast to the dismal openings for other high-profile R-Rated comedies like
Rough Night
($8 million) and
The House
($8.7 million).
Girls Trip
, which stars Jada Pinkett Smith, Regina Hall, Tiffany Haddish, and Queen Latifah, earned an excellent "A+" CinemaScore from opening weekend audiences, which were unsurprisingly 79% female with half of the audience under 30. African-Americans made up 59% of the crowd, with Caucasians accounting for 19%, Hispanics for 17%, and Asians for 3%.
Spider-Man: Homecoming
, which suffered a 62% drop last weekend, fell just 50% in its third frame as it earned $22 million to bring its domestic total to $251.7 million. Overseas it earned $33.2 million to bring its foreign earnings to $320 million (it is yet to open in China), and its current global tally to $571.7 million.
Weekend Box Office (Studio Estimates): July 21-23, 2017

Film

Weekend Gross

Screens

Avg./Screen

Total Gross

Wk#

1

Dunkirk

$50,500,000

3,720

$13,575

$50,500,000

1

2

Girls Trip

$30,370,720

2,591

$11,722

$30,370,720

1

3

Spider-Man: Homecoming

$22,010,000

4,130

$5,329

$251,711,581

3

4

War for the Planet of the Apes

$20,400,000

4,100

$4,976

$97,750,914

2

5

Valerian and the City of a Thousand Planets

$17,020,000

3,553

$4,790

$17,020,000

1

6

Despicable Me 3

$12,714,475

3,525

$3,607

$213,322,700

4

7

Baby Driver

$6,000,000

2,503

$2,397

$84,233,939

4

8

The Big Sick

$5,000,000

2,597

$1,925

$24,539,378

5

9

Wonder Woman

$4,630,000

1,971

$2,349

$389,033,279

8

10

Wish Upon

$2,477,816

2,154

$1,150

$10,522,081

2
Fourth place went to Fox's War for the Planet of the Apes, which became the latest franchise blockbuster to suffer a big second weekend drop like Homecoming and Transformers: The Last Knight (Down 62%). War for POTA plunged 64% in its second frame, earning $20.4 million to bring its domestic total to $97.7 million.

Debuting in the fifth spot was Luc Besson's Valerian and the City of a Thousand Planets, a space opera based on a French comic book series from the 1960s that reportedly influenced Star Wars. While Valerian's $17 million debut appears to be paltry compared with the film's reported $180 million cost (it is the most expensive film ever made in France), given the movie's lack of stars and its obscure (to U.S. audiences) comic book origins, many analysts figured that Valerian would open as it did in the mid-teens. With mixed reviews and a weak "B-" CinemaScore from opening weekend audiences, future prospects for Valerian here in North America look bleak, and the kind of run that make Besson's The Fifth Element a cult hit, appears unlikely. Opening weekend audiences skewed male (63%) and a bit older with about 60% of the crowd over 25.

Universal's Despicable Me 3, which was made for $80 million, looks to be one of the summer's most profitable blockbusters. While its domestic results aren't up to those of its predecessor Minions, Despicable Me 3 is still doing just fine, adding $12.7 million as it crossed the $200 million mark domestically. Overseas however DM3 is totally crushing it as it added $47.1 million to bring its foreign total to $514.1 million for a global haul of $727.4. Don't be surprised if DM3 becomes the leading global box office film of the summer when all is said and done.

Speaking of top films of the summer, it's now official--Patty Jenkins' Wonder Woman is now the top-grossing film in the domestic market for the summer of 2017 as it earned $4.6 million (down 32%) in its eighth weekend to $389 million, just a bit more than Guardians of the Galaxy, Vol. 2's $387.3 million total. Look for the Amazonian epic to end its North American run right around the $400 million mark.

Be sure to check back here next weekend to see what happens when the female-centric action film Atomic Blonde starring Charlize Theron opens along with the heavily-hyped animated feature The Emoji Movie.