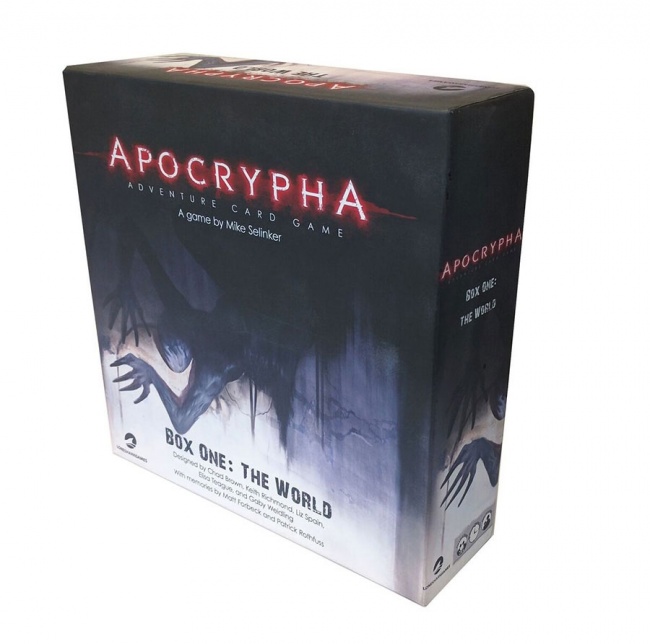 The long-awaited card game / role playing game hybrid
Apocrypha
will premiere at Gen Con this month in conjunction with the game's August 17 trade release.
Spearheaded by master designer Mike Selinker (Pathfinder Adventure Card Game, Betrayal at House on the Hill), Apocrypha also features design work from an all-star cast including Chad Brown, Keith Richmond, Liz Spain, Elisa Teague, and Gaby Weidling. The game of modern-day apocalypse can be played both as a cooperative card game and as a card-based roleplaying game with one player acting as gamemaster (see "Mike Selinker's 'Apocrypha'").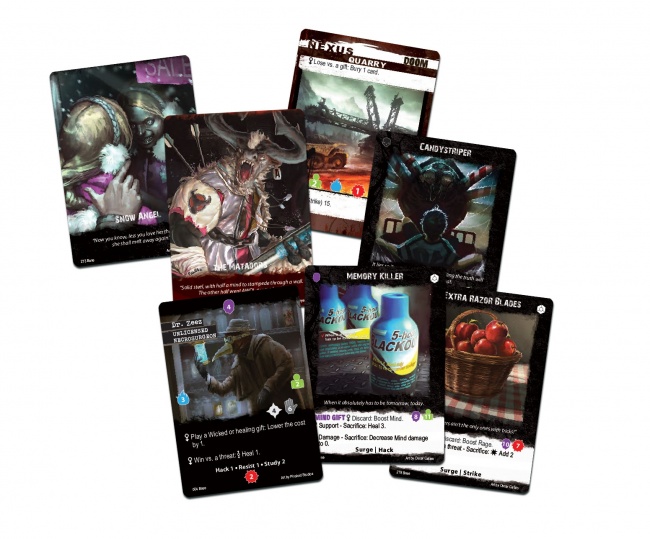 The core of the game will be the
Apocrypha Adventure Card Game Box One: The World
. Containing 584 cards with 30 card dividers, 10 pawns, 6 bases, 20 dice, and 1 storybook, this boxed set includes everything needed for games with 1 to 6 players, ages 14 and up. As a card game, playing time is about an hour. MSRP is $74.95.
In 2018, the game will be supported by three expansion sets:
The Flesh, featuring stories by Bruce Cordell, Jerry Holkins, Kris Straub, and Teeuwynn Woodruff.
The Devil was created by Keith Baker, Wolfgang Baur, Erin Evans, and Kij Johnson.
Each of those expansions will include 400 new cards with 10 dividers, 4 pawns, and a storybook. MSRP is $39.95 each.
The Hybrid Mission Pack will be a 10-card add-on. MSRP is $4.95.
In 2015, Lone Shark Games ran a Kickstarter campaign to fund the production of Apocrypha, which attracted $333,661 in pledged support from 2,477 backers (an average of $134.70 per backer).