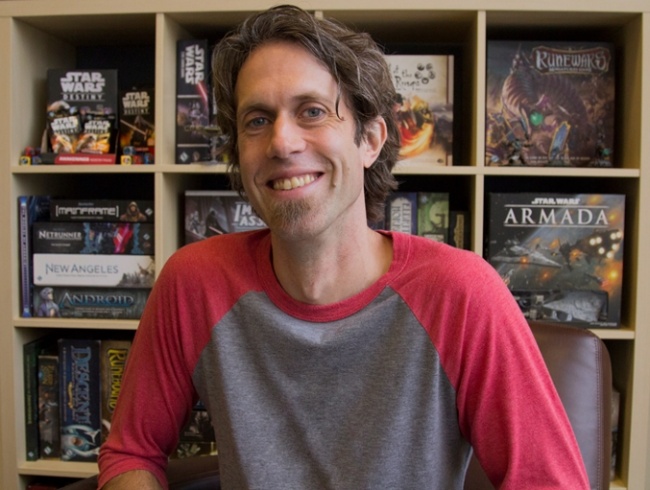 Fantasy Flight Games Studio (FFG) has promoted Andrew Navaro to Head of Fantasy Flight Games Studio, the company announced Thursday. In the role, which he took over at the beginning of 2017, Navaro will be responsible for overseeing product development from concept to completion as well as serving as the head administrator of the Studio.
Navaro, who has been with the company for 13 years, started at FFG in 2004 as a customer service associate. He later served as a graphic designer, was promoted to Managing Art Director in 2011 and became Digital Creative Director for the company in 2014. In October 2015 he was named Vice President of Creative Development and was promoted to Studio Head in January 2017.
"I'm looking forward to building on the great success of FFG, to continuing to be a valuable licensee for our great partners like Lucasfilm, Middle-earth Enterprises, Bethesda, 2K, and George R.R. Martin by making lavish, richly themed games that push the boundaries of what most people expect from licensed products by creating great experiences that engage customers with those IPs in a way that's only possible through tabletop gaming," Navaro said. "Fans of our settings (Arkham Horror, Runebound, Android, Legend of the Five Rings, etc.) can look forward to more world building, more fiction, and (most importantly) more games that explore those settings in new and interesting ways."
Fantasy Flight Games merged with the Asmodee Group in November 2014, but continued to operate as a fully independent publisher (see "Fantasy Flight Games Merges with Asmodee"). Asmodee announced it was consolidating its North American headquarters in Roseville, MN (home of FFG) at the end of 2015 (see "Asmodee, Fantasy Flight, Days of Wonder Consolidate").