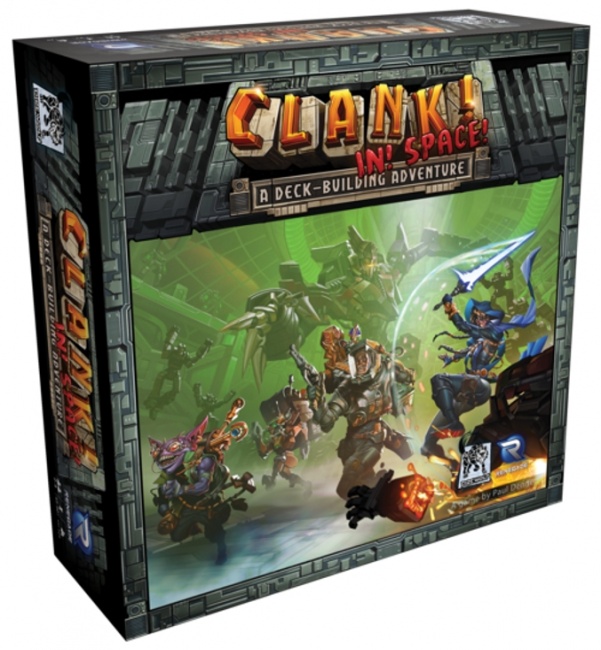 Renegade Game Studios and Dire Wolf Digital will release a new intergalactic stand-alone game using the same system as the hit
Clank! A Deck-Building Adventure. Clank! In! Space!
will release this fall after a special Gen Con preview.
Designed by Paul Dennen, players are stealthy thieves who have dared each other to steal things from the evil Lord Eradikus' flagship. Players must hack into the command module and snatch valuable loot, and maybe recruit some allies along the way. Silence is paramount, as any noise will draw the attention of the evil lord.
The box contains 7 Game Board Pieces, 43 Reserve Cards (15 FAZR, 15 Boldly Go, 12 Memory Core, 1 GØB-L1N), 4 Starting Decks (10 cards each), 100 Adventure Deck Cards, 6 Artifacts, 11 Major Secrets, 28 Minor Secrets, 120 Clank Cubes (30 of each player color), 1 Boss Marker, 24 Boss Cubes, 4 Bounty Hunter Cubes, 8 Market Items (2 Master Key, 2 TelePass, 2 Med Kit, 2 Contraband), 1 Market Board, 1 Blockade Token, 4 Command Code Tokens, 5 Power Crystals, 8 Data Cubes (2 of each player color), 4 Unique Player Pawns, 1 Boss Bag, and 1 Rulebook. The game is for 2 – 4 players, ages 13 and up, and plays in 1 hour. MSRP is $60.00.
Clank! A Deck-Building Adventure has proven quite popular, earning the #3 spot on ICv2's most recent board game hobby sales chart (see "Top 10 Hobby Channel Board Games--Spring 2017").