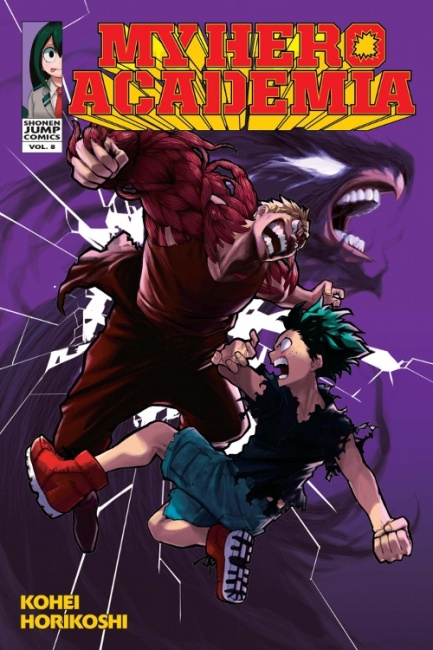 After building momentum steadily since its launch two years ago, the latest volume of
My Hero Academia
was the #1 adult graphic novel in the book channel last month, according to the August 2017 Top 20 Adult Fiction Graphic Novel chart provided exclusively to ICv2 by NPD BookScan. In addition to taking the #1 spot, the property placed a total of four volumes in the Top 20, a new high.
Some of the property's success may be tied to the fact that it's superhero-based; here's a description of the property by VIZ Media Senior Director, Sales and Marketing Kevin Hamric from early 2016, as
My Hero Academia
was just beginning to show its stuff (see "
Interview with VIZ's Kevin Hamric, Part 1
").
"It has an anime tie-in as well," Hamric said, explaining its success. "It's all superhero-based. It's high and middle school students who want to be heroes so they go to U.A. High School which is a high school for budding heroes and learn how to take on life and everything that goes with it -- the good, the bad and the ugly. It's pretty funny and it's an offtake of all the superhero worlds that we grew up with. It's very well drawn, very well written, and really good for manga readers of all ages."
VIZ published half of the Top 20 list in August, a remarkable accomplishment.
And as has been the case more than once recently, there were no modern Marvels nor DC Comics, and only two books from either publisher: two classic DC volumes from the 80s.
BookScan Top 20 Graphic Novels in August 2017

Rank

Title

Author

Publisher

1

MY HERO ACADEMIA VOL. 9

KOHEI HORIKOSHI

VIZ MEDIA

2

THE LEGEND OF ZELDA: TWILIGHT PRINCESS VOL. 2

AKIRA HIMEKAWA

VIZ MEDIA

3

ATTACK ON TITAN VOL. 22

HAJIME ISAYAMA

KODANSHA COMICS

4

TOKYO GHOUL VOL. 14

SUI ISHIDA

VIZ MEDIA

5

PAPER GIRLS VOL. 3

BRIAN K. VAUGHAN

IMAGE COMICS

6

MARCH: BOOK ONE

JOHN LEWIS

TOP SHELF PRODUCTIONS

7

EVERYONE'S A ALIEBN WHEN UR A ALIEBN TOO: A BOOK HC

JOMNY SUN

HARPER PERENNIAL

8

MY HERO ACADEMIA VOL. 1

KOHEI HORIKOSHI

VIZ MEDIA

9

FUN HOME: A FAMILY TRAGICOMIC

ALISON BECHDEL

MARINER BOOKS

10

WATCHMEN

ALAN MOORE

DC COMICS

11

ONE PIECE VOL. 83

EIICHIRO ODA

VIZ MEDIA

12

SERENITY: NO POWER IN THE 'VERSE HC

JOSS WHEDON

DARK HORSE COMICS

13

MY HERO ACADEMIA VOL. 2

KOHEI HORIKOSHI

VIZ MEDIA

14

BATMAN: THE KILLING JOKE DLX. ED. HC

ALAN MOORE

DC COMICS

15

TOKYO GHOUL VOL. 1

SUI ISHIDA

VIZ MEDIA

16

THE LIFE-CHANGING MANGA OF TIDYING UP: A MAGICAL STORY

MARIE KONDO

TEN SPEED PRESS

17

JOJO'S BIZARRE ADVENTURE: PART 3 - STARDUST CRUSADERS VOL. 4

HIROHIKO ARAKI

VIZ MEDIA

18

DRAGON BALL SUPER VOL. 1

AKIRA TORIYAMA

VIZ MEDIA

19

SAGA VOL. 7

BRIAN K. VAUGHAN

IMAGE COMICS

20

MY HERO ACADEMIA VOL. 8

KOHEI HORIKOSHI

VIZ MEDIA
For past BookScan Top 20 Graphic Novel lists, see the "BookScan Top 20 GN Index."