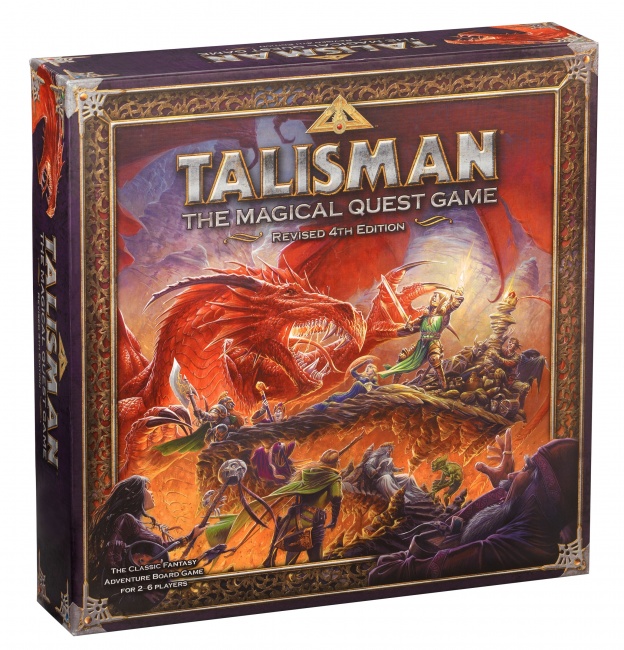 The latest revision of the classic fantasy adventure game
Talisman
will hit store shelves on November 4, having returned to Games Workshop's catalog.
As announced this summer (see "GW's 'Talisman' Returns"), Games Workshop has taken over production of Talisman: The Magical Quest Game Revised 4th Edition. The core game will support 2 to 6 players, and includes 14 plastic character figures with character sheets, a game board, 6 dice, 160 cards, and more than 200 tokens. MSRP is $59.99.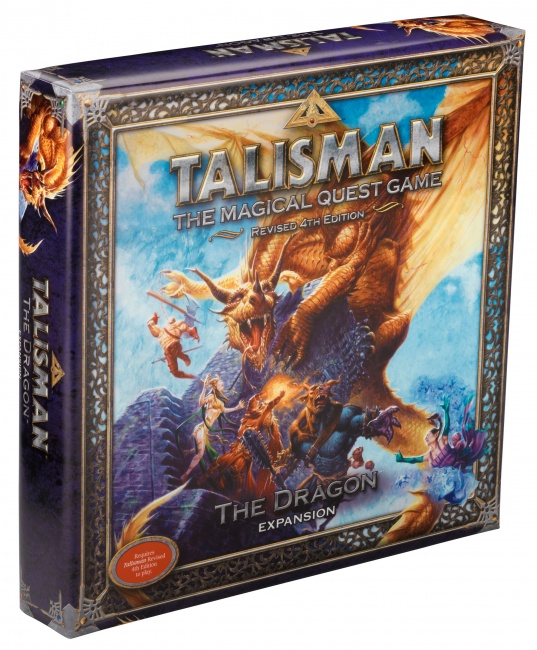 The release will be supported immediately with six expansion sets:
The Dragon Expansion depicts a conflict between three dragon lords and changes the Inner Region for new challenges. This expansion includes 300 new cards and tokens, and adds 6 new characters. MSRP is $39.99.
The City Expansion adds a small side board to the game which allows players to explore and adventure within a fantasy city. It comes with 171 new cards and 6 new characters. MSRP is $39.99.
In The Woodland Expansion, players can explore the wilderness on an add-on corner board. The game's climax can be altered through three new alternative game endings. 150 new cards and 20 new tokens round out this set. MSRP is $39.99.
The Reaper Expansion adds the Grim Reaper to the game, which players can manipulate to the detriment of their opponents. 4 new characters and 128 new cards are also included. MSRP is $24.99.
The Blood Moon Expansion adds a taste of gothic horror to the game, with "Day" and "Night" phases altering the landscape while werewolves prey on the heroes. This expansion adds 128 new cards, 3 new alternative endings, 3 new characters, and the Werewolf. MSRP is $24.99.
Omens and curses afflict the land in The Harbinger Expansion, as that mysterious entity wanders the board, and four decks of Omen cards track the spreading curse. Includes 3 new characters, 2 new endings, new Omen cards and Terrain cards, and the Harbinger. MSRP is $24.99.
See the gallery below for images of the expansions.
Games Workshop has announced that the new Talisman will be sold only through its distribution partners in the U.S., Canada, the U.K., Australia, and Scandinavia, and will not be sold direct to Games Workshop and Warhammer stores.
Talisman's fourth edition had been produced and distributed by Fantasy Flight Games prior to the termination of the two companies' license arrangement (see "Fantasy Flight, Games Workshop End Licensing Relationship").