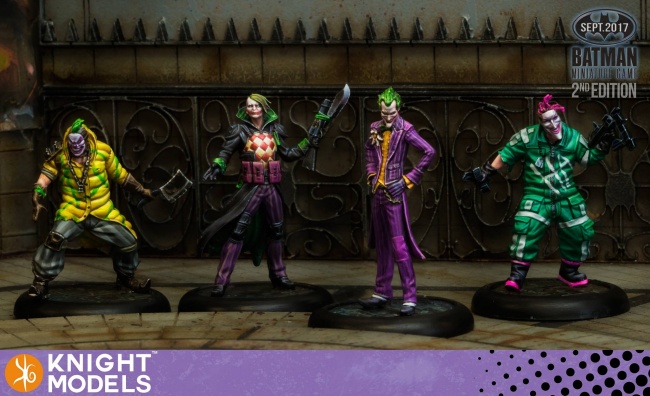 Knight Models has launched the new rulebook for its
Batman Miniature Game
and now is premiering the new line of resin miniatures, beginning with four
Starter Sets
and supporting figures releasing in October.
The Second Edition Batman Miniature Game rulebook is available for free digital download on Knight Models' website. Now the company is rolling out new high quality colored plastic resin models, which offer more detail at a lower price point. The miniatures are still produced inhouse at the company's facilities in Madrid, Spain. The new colored affiliations (blue for Batman, purple for Joker, free agents in grey) allows gamers to star playing right out of the box. The miniatures will be presented in new packages featuring the model's affiliation color and new format stat cards.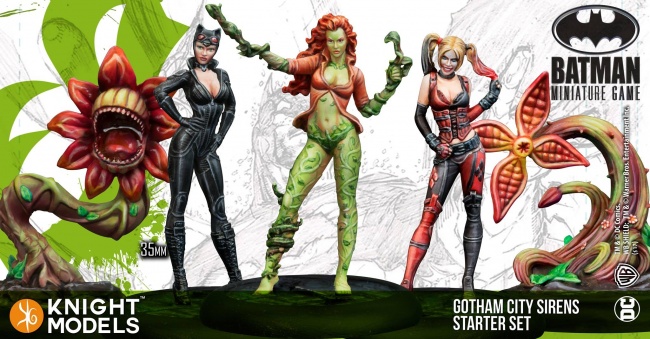 Starter Sets
include:
Batman Starter Set – $35.00
Joker and Clowns Starter Set – $35.00
Bane and Mercenaries Starter Set – $41.00
Gotham City Sirens Starter Set (Poison Ivy, Catwoman, Harley Quinn, Spikes Plant, Carnivorous Plant) – $41.00
Additional supporting figures will also be available:
Blackgate Prisoners Set – $35.00
Nightwing – $15.00
All miniatures are supplied unpainted and may require assembly.
Batman Miniature Game Second Edition rules are fully compatible with stat cards and miniatures from the previous version (see "Knight Models Relaunches 'Batman Miniature Game'").
(See images of all minis in the gallery below!)