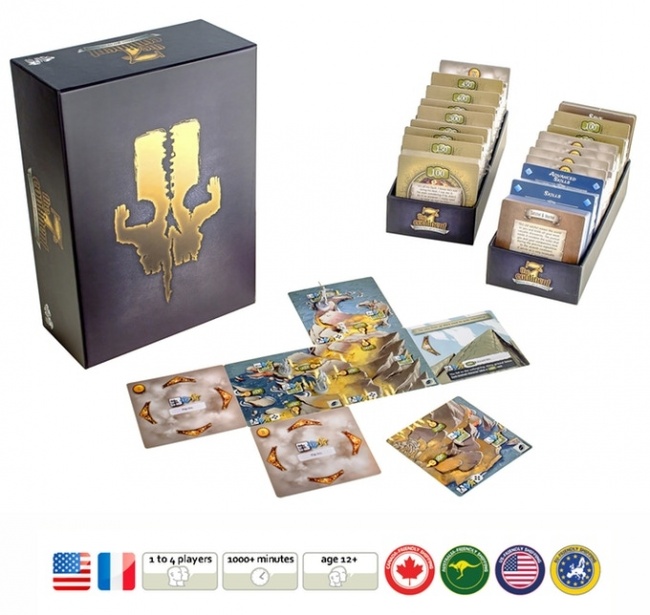 As French publisher Serious Poulp ends its Kickstarter for the expansion set for
The 7th Continent
board game,
What Goes Up, Must Come Down,
a new trend of high dollar games with no hobby trade release is becoming apparent.
The 7th Continent – What Goes Up, Must Come Down
finished north of $7 million today, bumping
Conan
by Monolith Board Games off the chart and raising the threshold another $131, 407 to break into the chart.
Serious Poulp's Bruno Sautter told ICv2 via email that due to prohibitive manufacturing costs for the huge, intricate game, it isn't financially feasible to use the retail distribution chain. Adam Poots, maker of
Kingdom Death: Monster 1.5
, a "boutique nightmare horror tabletop game project," described similar limitations in producing his game. "A game this size could not feasibly be made without the community of supportive backers we found on Kickstarter. It's too expensive to produce and too vivid for distribution," he wrote in the Kickstarter description. Monolith Board Games, publishers of the
Conan
board game (see "
Rolling for Initiative--Monolith and the Retail Channel
"), have stated that their
Batman: The Board Game
Kickstarter in February 2018 will be exclusive to the crowdfunding platform as well.
Top 10 Tabletop Game Kickstarter Projects as of October 19, 2017

Rank

Title

Total $

Raised

Date

Funded

Backers

Dollars/

Backer

1

Kingdom Death: Monster 1.5 by Kingdom Death

$12,393,139

1/7/2017

19,264

$643.33

2

Exploding Kittens by Elan Lee

$8,782,571

2/19/2015

219,382

$40.03

3

The 7th Continent – What Goes Up, Must Come Down by Serious Poulp

$7,072,628

10/19/17

43,732

$161.73

4

Dark Souls – The Board Game by Steamforged Games

$5,469,392

5/16/2016

31,178

$175.42

5

Zombicide: Green Horde by CMON Ltd

$5,004,374

6/27/17

27,234

$183.75

6

Rising Sun by CMON Ltd

$4,228,060

4/3/2017

31,262

$135.25

7

Zombicide: Black Plague by CoolMiniOrNot

$4,078,954

6/7/2015

20,913

$195.04

8

Gloomhaven by Cephalofair Games

$3,999,795

5/1/2017

40,642

$98.42

9

Massive Darkness by CoolMiniOrNot

$3,560,642

7/7/2016

22,361

$159.23

10

Dark Heaven: Bones minis by Reaper Miniatures

$3,429,235

8/25/2012

17,744

$193.26
The last game to join the Top 10 chart was Zombicide: Green Horde in June, the lated game in CMON's expansive horror saga (see "'Zombicide: Green Horde' Shambles onto Top 10 Tabletop Kickstarter Chart.")