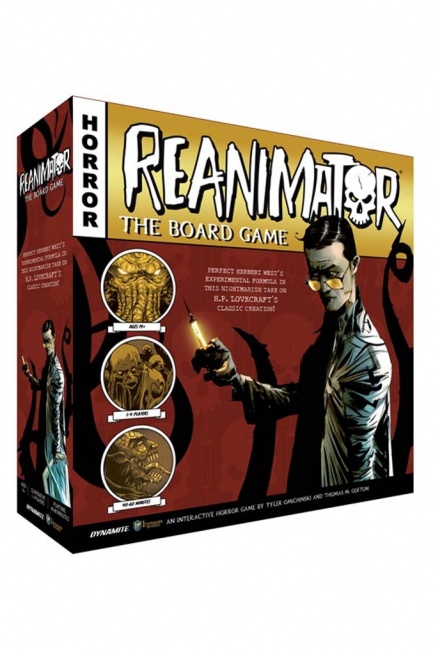 Dynamite Entertainment and Lynnvander Studios have revealed
ReAnimator: The Board Game
, which will release in February.
Announced in September (See "Kickstarter Watch: 'Highlander,' 'Reanimator,' and 'Triplanetary'"), ReAnimator: The Board Game is inspired by the short story by H. P. Lovecraft and the Dynamite comic book based on it (see "'ReAnimator' Returns to Dynamite"). In this fully-cooperative game, the players become assistants to the notorious Dr. Herbert West, aiding him with his distasteful work of collecting cadavers to test his death-defying formulas. If the players can concoct a working formula before the city of Arkham is overrun by the undead, they are victorious. If not, the restless dead will have their revenge on their creators.
The game is heavily story driven, using 150 "subplot" cards to present the players with challenges over six "serials." During each serial, the players must help Dr. West gather ingredients while protecting him from violent undead and the enforcers of the City Watch. Should Dr. West suffer too many injuries or go insane, the players lose the game.

ReAnimator: The Board Game
is played on a map of Arkham created using 3-D cardboard buildings representing important locations where Dr. West conducts his work. Also included are 157 cards, 4 dice, and game tokens. The game was designed for 1 to 4 players, ages 14 and up, and takes about 1 hr to play. MSRP is $39.99.
Production was funded through a Kickstarter campaign that attracted $17,412 from 261 backers (an average of $66.71 per backer), with fulfillment planned for February. Dynamite will be offering the game to the trade through Diamond Distribution following backer fulfillment. A representative of the company told ICv2 that the game "will be available through Alliance and we are reaching out to a wide group of game distributors to offer it through their outlets as well."
See larger images in the gallery below.