The Martian menace from H.G. Wells' classic
War of the Worlds
novel do battle with the cutting edge of World War I aircraft technology in
Wings of Glory: Tripods & Triplanes
, a new stand-alone game from Ares Games releasing next July.
Based on and fully compatible with Ares' flagship Wings of Glory aerial combat game, Tripods & Triplanes is set at the very end of World War I. When the Martians attack, the nations of the Earth set aside their differences and join forces against the common foe. Now the iconic Martian tripods with their advanced technology, black smoke, and heat rays ravage the countryside. To combat them, the earthlings deploy squadrons of fighter airplanes.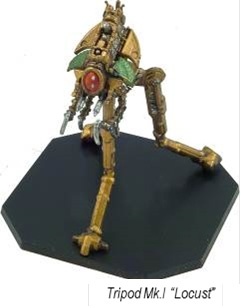 Tripods & Triplanes
uses the same card-based movement and combat system as
Wings of Glory
, with additional mechanics to handle the Martian tripods and their technology. The base game includes 1 pre-painted and pre-assembled tripod and 1 Nieuport 17 airplane model, 6 control boards, 2 maneuver decks, 7 damage decks, 4 rulers, and more than 100 tokens, counters, and markers. MSRP has been tentatively set at $59.90. Additional tripods will be available with prices ranging from $19.90 to $29.90. Any
Wings of Glory
airplane packs can be used with the game as well.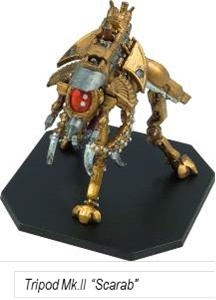 Ares is funding production of
Tripods & Triplanes
with a Kickstarter campaign that broke its $30K funding goal and has 21 days remaining. Retailers can back the project by contacting Ares directly, which offers a package similar to the "Invasion" pledge with an order minimum of six copies at normal retailer cost.
Ares Games released its World War I version of Wings of Glory in 2012 (see "'Wings of Glory WW1'").