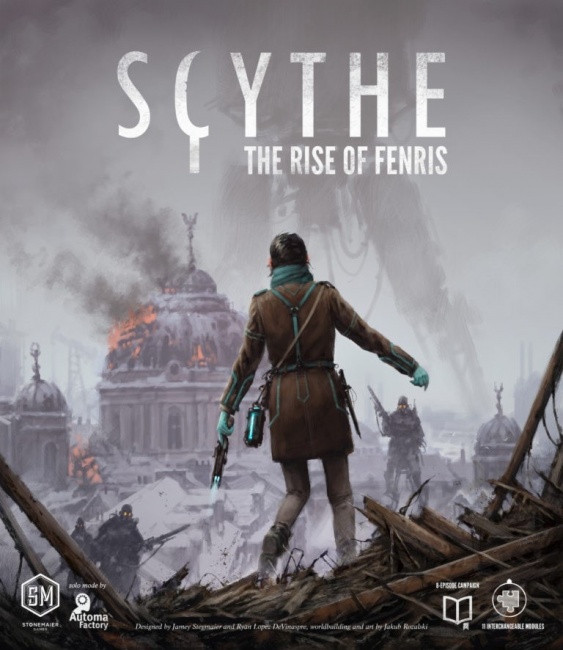 The last part of the trilogy of expansions for Stonemaier Games' hit game
Scythe
has been revealed.
The Rise of Fenris
will release in Q3 this year.
Scythe: The Rise of Fenris is set in the same post-apocalyptic steampunk world as the base game and earlier expansions, and is fully compatible with all previous expansions. The heart of The Rise of Fenris is an eight-part campaign that uses a number of features commonly found in "legacy" style games, including secret components in sealed tuckboxes and persistent changes to the game from scenario to scenario. Unlike a typical legacy game, however, this expansion can be completely reset and replayed. In addition, the 11 modules that make up the campaign can all be used independently or combined as players see fit, even when not playing the campaign version.
The expansion will include 13 plastic miniatures, 62 wooden tokens, 2 custom dice, 5 tiles, and more than 100 cardboard tokens, as well as an episodic guidebook. It can be used with the base game to support games with 1 to 5 players, or combined with the Invaders From Afar expansion to play with up to 7. MSRP has not yet been announced.
Scythe was a surprise hit for Stonemaier in 2016, earning the Origins Award for "Game of the Year" in 2017 (see "2017 Origins Award Winners") and hitting the top spot on ICv2's list of best-selling boardgames last spring (see "Top 10 Hobby Channel Board Games--Spring 2017").