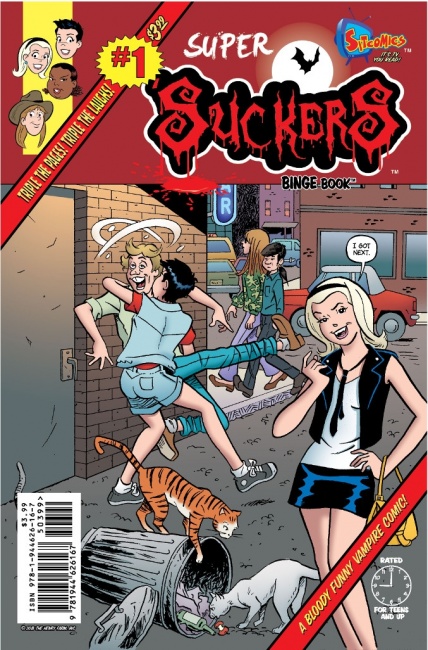 Humor publisher Sitcomics revealed the first titles in their new Sell-Through Distribution system. All of the issues, Sitcomics' proprietary Binge Books, come in at 64 pages for an MSRP of $3.99 and will be in stores on January 31.
Sitcomics uses a rating system based on broadcast television time slots. The later the hour, the older the intended audience: 9:00 p.m. is for teens and up; 8:00 p.m. is defined as the action hour, appropriate for slightly younger audiences; and 7:00 p.m. is the family hour.
Z-People (9:00 p.m.) from writer Darin Henry (Seinfeld, Futurama) and artist Tom Richmond (MAD), combines the zombie apocalypse with workplace comedy. Al Milgrom (The Avengers) provides a 10-page backup about the Fart Ghost.
Super 'Suckers' (9:00 p.m.) from Henry and artist Jeff Shultz (Betty & Veronica) finds Jess and Kelly joining forces after their two-timing boyfriend gives them both an STD called Vampire. Four issues of the series will be available January 31.
Henry and artist Craig Rousseau (Impulse, Batman Beyond) team up for Startup (8:00 p.m.), a story about a single mom who gains superspeed when she takes an experimental diet drug. Two issues will be out January 31.
Ron Frenz (Spider-Man, Thor) and Sal Buscema (Hulk, Captain America) illustrate Henry's The Blue Baron (8:00 p.m.), a body-swap tale about a centuries-old hero who finds himself in the body of a 13-year-old. Two issues hit shelves on January 31.
Rounding out the solicitations is Telepathic (7:00 p.m.) from Henry and artist Blair Shedd (Doctor Who). In the story, two 9th-grade nothings gain superpowers only to find out the most popular girl in school is even more powerful than they are.
Sitcomics recently announced Sell-Through Distribution, a direct-to-retailer program that relies on a free pre-sale catalogue and quick turnaround from customer order to delivery (see "New Comic Book Distribution System"). More than 100 comics retailers in all 50 states and Canada are participating in the launch. Customers have until January 25 to place orders at participating shops.
Click on the Gallery below for covers for the first issues and beyond!