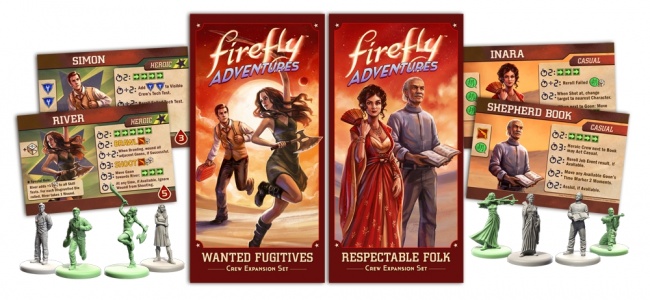 Just ahead of the release of the
Firefly Adventures: Brigands & Browncoats
strategy game, Gale Force Nine has shared information and images on the first two
Crew Expansion Sets
, which are planned for release in May or June.
Each Firefly Adventures: Crew Expansion Set includes two new playable characters (with miniatures in both casual and hero positions), two new Jobs, and 10 new equipment cards. All cards can be used along with the crew from core game set. The Wanted Fugitives Set includes physician Simon Tam and River Tam, his sister. The Respectable Folk Set includes companion Inara Serra and preacher Shepherd Book. Each set has an MSRP of $20.00.
GF9 previewed the game at Gen Con last year (see "Pull Some Thrilling Heroics in 'Firefly Adventures: Brigands & Browncoats'"), and trade release is now planned for January or February.