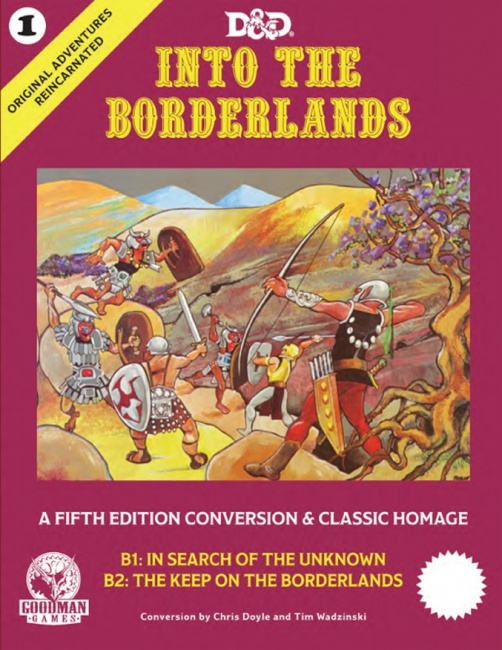 Details about Goodman Games' plans for its first volume of classic
Dungeons & Dragons
modules updated for
Fifth Edition
have been revealed. The
Into the Borderlands
book will release in April.
As announced last year (see "New Edition Hardcovers of Early 'D&D' Modules"), Into the Borderlands will be a hardcover book that combines the iconic Dungeons & Dragons adventure modules B1: In Search of the Unknown and B2: The Keep on the Borderlands. The book will feature two different complete reprints of both original modules, including original text and artwork, highlighting the different printings published by TSR. In addition, updated Fifth Edition versions of both modules are included, along with recommendations for monsters and treasures to stock both dungeons, which were not included in the originals, and new material inspired by the two adventures offering add-on encounters for the players. Appendices with Fifth Edition stats for new monsters and magic items and a chapter of testimonials and introductory text round out the tome.
Into the Borderlands will be a 368-page book featuring conversion work by Chris Doyle (whose credits include several Dungeon Crawl Classics modules and the Fifth Edition Fantasy line) and Tim Wadzinski (Fifth Edition Fantasy). MSRP is $49.99.