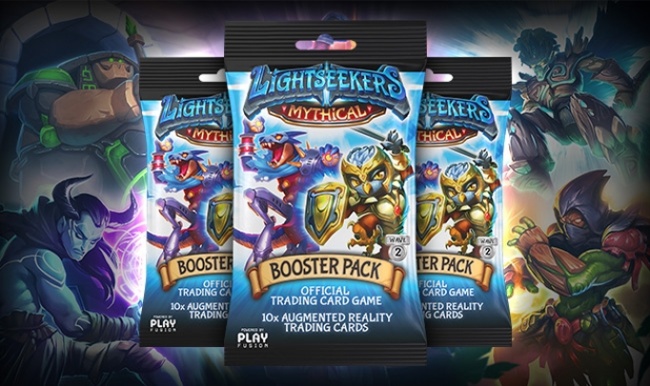 PlayFusion, maker of the multi-media
Lightseekers
gaming experience, has shared plans for the
Lightseekers Trading Card Game
aimed directly at the hobby market. PlayFusion launched the new TCG in 2017 (see "
New TCG 'Lightseekers'
").
Two boosters for
Lightseekers
are planned for 2018, and they will be released exclusively to the local game store market.
Lightseekers Mythical
will include 152 new cards, including new Mythical Cross-Order Heroes. The new packs will contain 10 cards (one more than previous boosters and each guarantees at least 1 foil per pack), and have an MSRP of $3.99. Each booster box will contain 40 packs. Release is March 20. The second booster will be unveiled at Gen Con and release to stores on August 7.
The official Lightseekers Organized Play Program will launch on April 1. Stores will be able to host weekly tournaments with exclusive prizes for participants and winners, including foil Combo cards for participants, foil Hero cards for tournament winners, and a playmat for the monthly winner. Each month will be themed around a specific Hero. Regional and National Championships will also be hosted by PlayFusion at various conventions, including PAX East, Origins, LA Anime Expo, and PAX Unplugged. The US National Championship will be held at Gen Con in August. The Top 8 players from each regional qualifier with receive an invitation to the National Championship. PlayFusion films all of its competitive tournaments and posts them on YouTube.
The
Lightseekers TCG
Companion App will help players locate, register and participate in
Lightseekers TCG
live events. The App is now available for iOS and Android devices, and it helps store owners or tournament organizers manage every aspect of tournaments: structure, pairings, drops, scorekeeping, tiebreakers, records, and results.
A digital version of the
Lightseekers Trading Card Game
will be launched in June for iOS, Android and PC devices. The digital version will also allow players to import their physical cards into the digital game for online play.
PlayFusion has partnered with Ultra PRO to produce
Lightseekers
deck boxes, protective sleeves, and playmats. The accessories will be available early in the spring.